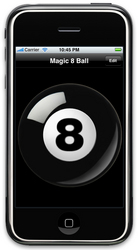 I might even use this to determine raises for my employees next year.
Minneapolis, MN (PRWEB) July 10, 2008
DoApp, a registered developer of Apple iPhone applications, today announced the second of many apps it is developing, a fun and entertaining Magic 8 Ball application. A real conversation-starter, this application lets you shake the iPhone as you would an actual Magic 8 Ball, making use of the iPhone's built-in accelerometer to provide your answer.
"There's nothing like a little divine assistance when making some of those tough decisions," said Joe Sriver, DoApp's Founder and CEO. "I might even use this to determine raises for my employees next year."
DoApp designed the app so you can create and edit your own answers. Just ask your question, shake your iPhone or iPod Touch -- which emits a shaking sound -- then "turn over" the 8 Ball by swiping your finger across it, and your answer magically appears on the multi-sided, floating blue triangle die. Either a gentle shake or turning the device face down for a second will cause the die to appear again with a random answer. Imagine, no more lugging around those heavy toys in your briefcase -- it's all right there in your hand on your trusty iPhone.
"The graphics are amazing," said Wade Beavers, DoApp's VP of Strategy. "When you 'flip over' the ball, it doesn't just show a static die, but one that floats up and bounces off the lens. Now, that's mystical! It's a blast to use with friends or colleagues during a meeting -- a fun, conversational game for the iPhone."
The Magic 8 Ball by DoApp is available for both the iPhone and iPod Touch at the Apple AppStore beginning July 11, 2008 at only 99 cents. More information is available at the Magic 8 Ball by DoApp product page.
About DoApp:
DoApp Inc. (http://www.doapps.com), based in Minneapolis, Minnesota, is an Internet applications company. It was founded in May 2007 by an early Google employee, and was originally named PagePow. The company develops consumer and business apps that help people do useful things, have fun, make them more productive, and enhance their online life. DoApp creates widgets and applications for web sites, desktops, and mobile devices that enable a whole new world of distributed content and commerce. The company's products are designed to help people make money, increase traffic, and improve consumers' web experience, whether on their desktop or laptop computer, or on their mobile device. DoApp Inc. is an approved member of Apple's iPhone developer program.
###