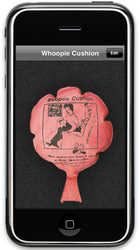 We beta-tested this with both kids and adults, and there was a smile on every single face when they experienced it.
Minneapolis, MN (PRWEB) July 10, 2008
Doapp, a registered developer of Apple iPhone applications, today announced the third app of many it is developing, one that will make you and your friends roll with laughter. You may not be able to teach an old dog new tricks, but you can now have your iPhone pull the classic prank: the Whoopie Cushion.
DoApp takes this old-school joke to a new level with a variety of rude sounds that will have everyone in the boardroom or in your office enjoying the fun. "There's nothing better than a finely timed Whoopie Cushion prank!" said Wade Beavers, DoApp's VP of Strategy. "It's one of those jokes that's timeless, and we've taken it to a whole new level."
Inspired by the mother-in-law of DoApp's lead mobile application developer, Tim Zosel, the Whoopie Cushion by DoApp includes a wide variety of gas sounds, ten in all, and you can choose the right length and power to make the proper sound effect for the moment. Using the application is as easy as touching the iPhone once for a "short but sweet" sound, or swiping your finger across the screen for that long and awestruck jet sound that would make any human proud to say, "Yes, I cut the cheese!"
Making you the life of the party or the prankster in the office, the Whoopie Cushion by DoApp is a must-have for the Apple iPhone or iPod Touch. No need to hope for the proper weight force to make the sound -- this app gives you complete control of your very own punchline.
"Some of us here at DoApp are making the next killer app, but this one is the next killer prank," said Beavers. "We beta-tested this with both kids and adults, and there was a smile on every single face when they experienced it."
The Whoopie Cushion by DoApp works on both the iPhone and iPod Touch and is available in the Apple AppStore beginning July 11, 2008, for only 99 cents. More information is available at the Whoopie Cushion by DoApp product page.
About DoApp
DoApp Inc. (http://www.doapps.com), based in Minneapolis, Minnesota, is an Internet applications company. It was founded in May 2007 by an early Google employee, and was originally named PagePow. The company develops consumer and business apps that help people do useful things, have fun, make them more productive, and enhance their online life. DoApp creates widgets and applications for web sites, desktops, and mobile devices that enable a whole new world of distributed content and commerce. The company's products are designed to help people make money, increase traffic, and improve consumers' web experience, whether on their desktop or laptop computer, or on their mobile device. DoApp Inc. is an approved member of Apple's iPhone developer program.
# # #