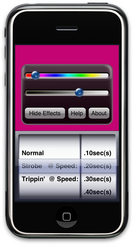 No more digging for a flashlight only to find the batteries dead, or late night stubbed-toe incidents bumping into the coffee table
Minneapolis (PRWEB) July 12, 2008
Doapp, a registered developer of Apple iPhone applications, today announced its first iPhone app approved for download on Apple's "App Store," the myLite™ Colored Strobe and Flashlight, is now being offered for the ultimate best price of all -- FREE. "Quite simply," said Joe Sriver, founder and CEO of DoApp, "we're making this price reduction to drive home the point that differentiation matters for consumers, after a confusing first day of iPhone app offerings comes to a close."
He continued: "We're convinced we have the very best offering for iPhone users who want the valuable utility of turning their iPhones into a powerful, personal illumination device. So, we're putting our money where our mouth is and letting them have our advanced strobe and flashlight app for free. Their downloads will tell us it's a good move."
The myLite app takes the hassle out of trying to find a flashlight in the dark or when the power goes out, and it also makes you the life of the party at rock concerts or the MacGyver on your camping trip. "No more digging for a flashlight only to find the batteries dead, or late night stubbed-toe incidents bumping into the coffee table," said Sriver. "Your iPhone is always at the ready."
But not only is this instant "night light" good for reading in the dark or finding a keyhole in a pinch -- shining as bright or brighter than any traditional or LED flashlight -- you can very simply adjust its light beam for both brightness and color with the two convenient "slider" controls. Make your light beam more like fluorescent (cool) or incandescent (warm) light - or any color at all, across the entire color spectrum - whatever your personal preference is at the moment. Use the Strobe feature to flash your light in any color at just the time interval you choose. Or flash your light continuously through the entire spectrum of colors with the Trippin' feature, which is great fun for kids or to dramatize any storytelling situation - not to speak of trippin' out at rock concerts.
The DoApp myLite app works with both the iPhone and iPod Touch and is available now at the Apple iTunes "App Store" for FREE -- in the "Utilities" category. More information is available at myLite app details
About DoApp
DoApp Inc. (http://www.doapps.com), based in Minneapolis, Minnesota, is an Internet applications company. It was founded in May 2007 by an early Google employee, and was originally named PagePow. The company develops consumer and business apps that help people do useful things, have fun, make them more productive, and enhance their online life. DoApp creates widgets and applications for web sites, desktops, and mobile devices that enable a whole new world of distributed content and commerce. The company's products are designed to help people make money, increase traffic, and improve the consumer web experience, whether on their desktop or laptop computer, or on their mobile device. DoApp Inc. is an approved member of Apple's iPhone developer program.
###