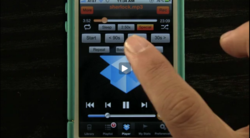 Once you go faster, you just can't go back to real time.
Edmond, OK (PRWEB) April 26, 2012
The iTalkfast team is pleased to announce iTalkfast - an iPhone audio app that can enhance learning, comprehension, and speed-up the process by up to four times faster.
''iTalkFast speeds-up playback of recordings like lectures and other talks. People who listen at accelerated speeds learn just as much, and there's evidence they may learn even a bit more,'' said Kevin Harrigan, an associate professor at the Center for Learning and Teaching Through Technology of the University of Waterloo in Canada.
''If you're listening at accelerated speeds, it forces you to not do anything else, so you're more focused on it," said Joel Galbraith, a researcher in Penn State's instructional systems program.
The iTalkfast team says that once the iPhone player is put to use, they expect that no one will return to traditional way of listening. Some users say the process of listening at accelerated speed is much like being forced to use an antiquated dial-up Internet connection after using a high speed broadband connection.
''I cannot stand to listen at normal speed,'' said Mr. Earle of Brigham Young. Mr. Galbraith of Penn State agrees: ''Once you go faster, you just can't go back to real time,'' he said.
Cory Boatright, best selling author and successful entrepreneur understands the value of time when it comes to learning. According to Boatright there is a lot of research about the benefits of speed-reading, so he extended the idea into listening. Mr. Boatright says he is passionate about the science behind this new application that allows users to process information aurally at up to four times the normal rate of speech.
Boatright says the team that created iTalkfast customized this utility app for virtually any listening experience. According to the company, users can create custom playlists, record notes and bookmarks, set sleep timers, play podcasts and add entire albums or songs. 
Boatright commented that college students who may find they are falling asleep in a vacuous lecture hall are likely to benefit from listening to a recording of the same lecture at increased speed.
Ray Juang, a University of California undergraduate admits to falling asleep in the large lecture halls at Berkeley. Juang agrees that a high-speed playback of the lecture is of great benefit. ''On average, I understand the material better during playback than in the actual lecture room,'' commented Mr. Juang. ''The speed-up does force me to pay more attention.''
According to Steve Pavlina author of the article Overclock Your Audio Learning the learning experience with speed listening has a futuristic quality.  "I think you'll find as I do that when you listen to audio material at a faster than normal rate, your comprehension and retention of the material improves dramatically.  Instead of getting bogged down in the low level details and examples, you emerge with a clear sense of the big picture.  To me it almost feels like I'm downloading ideas directly from the author's brain."
iTalk fast is currently available on the iTunes app store and the company is currently accepting people to receive updates about the app's release.
Find out more by visiting http://italkfast.com
Media and information contact: Cory Boatright(in the USA dial) 1-888-476-4114 or email cory(at)italkfast(dot)com