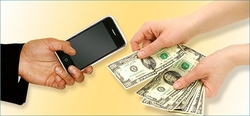 Customers are often surprised to find that their old Apple iPhone can be sold for a very good price and they can then use that money to purchase a brand new iPhone
San Antonio, TX (PRWEB) July 23, 2008
Milliamp LTD, which owns the website ipodjuice.com and has been providing iPod battery kits for more than three years, has just announced a brand new buy-back program for used first generation Apple iPhones.
The dollar amount a person can receive for a used iPhone depends on several factors, including the capacity and overall condition of the device. While the company would prefer a functioning iPhone in great condition, they will also accept iPhones that are in less-than-perfect condition.
"A used iPhone in good working order is valuable to our iPhone repair company," said Anthony Magnabosco, the owner of the ipodjuice.com website.
A gently-used iPhone can be used to test out new parts as they are received into the iPod repair shop before being used, or could perhaps even be used to repair other iPhones, since finding reliable parts for the Apple iPhone can be challenging.
However, if your iPhone has taken a dip in water, don't even think about donating it: even if you find that the phone still works, it is likely the water has damaged (or soon will damage) the components inside the device, rendering the phone un-repairable.
Fortunately, the high-quality ipod and iphone parts that you receive from ipodjuice.com are tested out and covered for one full year, which is far more than what most iPod repair and iPhone repair companies offer.
"Customers are often surprised to find that their old Apple iPhone can be sold for a very good price and they can then use that money to purchase a brand new iPhone," continued Magnabosco.
To learn how you can sell your used iPhone to Milliamp LTD and their iPhone buy-back program, please head to http://www.ipodjuice.com/first-generation-iphone-buy-back-program.htm.
The ipodjuice.com website and the company Milliamp LTD are in NO WAY associated with Apple Computer, Inc., just in case you were mystified about that. 'Apple', 'iPod', and 'iPhone' are trademarks of Apple Computer, Inc., registered in the U.S. and other countries.
###