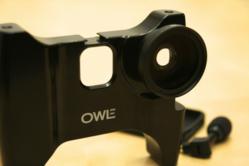 Tiny gear for your big ideas.
Vancouver, BC (PRWEB) October 28, 2011
Since the big camera improvements made with the iPhone 4 and now even better specs in the iPhone 4S, more and more people are replacing their point and shoot cameras with their iPhone cam for day to day photos and videos.
While the iPhone 4S has an improved f2.4 lens and higher 8mp resolution the base camera is somewhat limiting as there is no zoom or wide angle lens options built in. This is where third party camera accessories like external lenses and stabilizers come in.
For the new breed of iPhone photographers and videographers looking to improve their output, iPhone camera gadgets exists to help them in their quest. Tinyshooters.com carries a wide range of camera accessories exclusively for the iPhone 4 and 4S.
Owle Bubo
Camera stabilization and attachments for lights and microphones are two of the most popular requests for better iPhone videos. This is where the Owle Bubo comes in. Machined from a single piece of solid metal, the Owle Bubo feels sturdy in the hand and fulfills a multitude of uses. Used as a two handed camera holder, videos instantly become more stable. The Owle has 5 separate mounts for attaching camera lights, audio mics or can simply be attached to a tripod. Included is a sharp and bright wide angle and macro lens for impoved footage. Better audio comes from the included mini microphone that attaches to the iPhone 4/4S headphone jack.
The Owle Bubo is the best all in one solution for improving iPhone video, allowing the user to create photos and videos not possible with the basic iPhone camera.
Olloclip
For users of the iPhone 4 or 4S who want more lens options the Olloclip is a handy pocketable triple lens system that clips over the iPhone. The Olloclip is the perfect take anywhere lens to expand iPhone photography. One side is a super wide angle fisheye lens, the other side houses a wide angle lens with more coverage than the iPhone's own lens. Unscrewing the wide angle exposes a sharp macro lens for extreme close up shots. The included carrying bag is a micro fibre lens cloth. The Olloclip is a truly innovative lens system that can go everywhere.
Steadicam Smoothee
Steadicam rigs for film and video cameras cost thousands of dollars and are very heavy systems. The Steadicam Smoothee is a low cost, portable and lightweight Steadicam solution for iPhone videographers who want professional looking smooth tracking shots for a very low price.
Tinyshooters.com offers these and other innovative, budget priced iPhone solutions to help make the iPhone into a more complete portable film making tool.
Tinyshooters.com is an online store dedicated to supplying the best and most useful camera gear for iPhone, DSLR and micro 4/3 camera users. Lenses, stabilizers, lighting and audio gear that help these small cameras produce outstanding photos and videos is our goal. With online live chat, phone support and 100% satisfaction guarantee we provide great service. All items are available now for immediate delivery. Order now and be one of the first to use this innovative gear to capture amazing photos and videos.
###