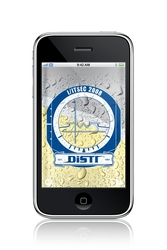 This iPhone/iPod technology is an ideal way to showcase some of the talents present here at DiSTI
Orlando, FL (PRWEB) October 15, 2008
The DiSTI Corporation, a global leader in Human Machine Interface (HMI) development, today announced the availability of dBeer for the iPhone and iPod Touch. DiSTI's clever engineers developed the free dBeer application to share some virtual hospitality with the masses. Information on how to download dBeer can be found on DiSTI's website http://www.disti.com or by visiting the App Store on iTunes.
The dBeer application fills the screen with a synthetic beverage complete with rising bubbles and a foamy head that oscillates when the device shakes. To enjoy, simply tap the screen to fill, pour, and repeat. Users can choose from a selection of glass logos and beverage choices including light beer, dark beer, and an extreme green soda.
"This iPhone/iPod technology is an ideal way to showcase some of the talents present here at DiSTI," said Scott Ariotti, Director of Sales and Marketing for DiSTI. "Please enjoy this virtual hospitality courtesy of the DiSTI Corporation."
DiSTI has been meeting the unique needs of their customers since 1994 by providing innovative industry leading software products. DiSTI was recently ranked as one of the top Modeling and Simulation companies by Military Training Technology magazine and has received multiple product innovation awards. DiSTI's software engineers offer expertise in developing diverse graphical applications to meet client demands; everything from this simple virtual refreshment application to a synthetic maintenance trainer for the Air Force's next generation strike fighter, the F-35 Lightning II.
About DiSTI
DiSTI is a global leader in the development of Human Machine Interface software for businesses, governments and the military. The company's flagship products, GL Studio and GL Studio for Java, enable programmers and developers to build high-fidelity graphics, 3D simulations and fully interactive controls into their models, enhancing the level of realism and sophistication, while improving learning and retention.
More than 400 customers worldwide including BAE Systems, Boeing, FedEx, Lockheed Martin, Honeywell, Raytheon and Thales use DiSTI solutions to build maintenance trainers, create PC and Internet-based courseware and to develop components for safety-critical applications. As a full service provider, DiSTI offers a complement of custom programming and development services, and is the recognized leader in training solutions for the global simulation and training community. For more information, visit http://www.disti.com.
# # #