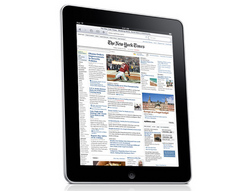 This was the best course I have taken and far better than the Stanford University class. I learned more in one week, with historical backgrounds from NeXT that I would have never learned anywhere else.
Reston, VA (Vocus) March 16, 2010
About Objects will be offering an updated version of its most popular iPhone development training course, revamped to include full coverage of iPad development. The new 5-day, hands-on course, is entitled Introduction to iPhone and iPad Development. It's the latest in a series of iPhone development training programs developed at About Objects that has proven popular with developers from companies such as Apple, eBay, Genentech, Intuit, Raytheon, NASA, and Yahoo!. Classes are priced at $2,495 ($2,195 with early registration), and will run initially in Cupertino, California April 24-30, followed by a class in Reston, Virginia May 24-28.
There are two other courses in the series: ANSI C Programming, and Objective-C for Beginners. This allows developers to 'right-size' their training by choosing the mix of classes they need, so they don't have to cut any corners on their training. The curriculum is designed to give students a solid grounding in iPhone development, with an emphasis on what actually happens under the covers. The class helps developers more fully understand how Objective-C, Apple's frameworks, and their own code works, giving them the tools to diagnose any problems that crop up, and to continue learning on their own.
Classes are taught by two well-known and highly regarded iPhone developers: Jonathan Lehr, founder of About Objects, and Aaron Morse, developer of numerous hit iPhone apps including TapDefense, and Trenches. Both have extensive training backgrounds that include years of teaching beginner-level, intermediate, and advanced development topics centered around Apple's Objective-C and Java frameworks.
The classes make use of a unique About Objects 'building-blocks' training methodology. This approach ensures students get a solid grounding in the fundamentals, as the curriculum takes students through a series of carefully pre-planned steps, each building on knowledge gained in previous steps. Along the way, the instructors' deep knowledge of Objective-C and Apple technologies allows them to provide numerous tips and techniques for using the language, the tools, and the frameworks more effectively.
The training techniques used in About Objects classes has proven effective in preparing developers to develop shipping iPhone apps, as evidenced by the number of former students whose apps are currently available on Apple's App Store. Here's what recent attendee, Craig McLeod, had to say: "My company (Resort Technology Partners of Avon, CO) started on a complex, augmented reality iPhone app, REALSKI, weeks before I went to my About Objects class. When I got back, I was able to jump into development and become a key member of the project. The app uses the iPhone's GPS and location-based data so that when you're at a ski resort, you can see labeled information about the runs, lifts, and buildings around you through the iPhone's camera. Apple has featured it under New and Noteworthy section in iTuns."
Another recent attendee, Mark Kenney, said this: "Thanks again for the class! My first app got approved for sale just before Christmas. I'm working on version 2.0 of it now. It is a simple tip calculator called MyTip (from MechDog). Nothing ground breaking but wanted to get something done and submitted to learn more about the process. Thanks again for the wonderful class and I look forward to a Core Data or some other class I can take next year with you! "
The following testimonials are from other recent students:
"This course was above and beyond what I expected. Most courses I have taken have given me 'pointers.' This course gave me understanding and a great foundation to build upon." - Damon Renfrow, The Jockey Club Technology Services
"Excellent, well thought out and well designed course. This is a MUST-HAVE course for any one aspiring to be a good iPhone developer." - Santosh Menon, Sybase
"This was the best course I have taken and far better than the Stanford University class. I learned more in one week, with historical backgrounds from NeXT that I would have never learned anywhere else." - Victoria French, Metrosharp
"The best course I've ever taken. If you are serious about getting in-depth, end-to-end, real world iPhone programming, you must take this course! - John D'Esposito, Technet
About the Series:
The first of the three classes in the series is the 3-day ANSI C Programming course, currently available in Reston only. This class provides a comprehensive introduction for developers who lack experience in C or a C-like language, such as Java, C+, or C#, as well as for those who are relatively new to programming.
The next class in the series is a 2-day Objective-C for Beginners class that's designed to get experienced programmers (or those who have taken the ANSI C Programming course) up to speed quickly on object-oriented programming in Objective-C.
The third and final class in the series is the new, 5-day course: Introduction to iPhone and iPad Development. The class starts with a brief review of Objective-C syntax and key Foundation framework programming topics such as memory management, and then covers the following topics:

Working with Xcode
Working with Foundation Classes (strings, arrays, dictionaries, etc.)
Memory Management and Performance Monitoring
Network and Files
Applications, Windows, Views, and Layers
View Controllers
Custom Drawing with Core Graphics
Core Animation
Responding to Touches
Interacting with Buttons and Other Controls
Working with Text Fields and Keyboard Input
Working with Interface Builder
Table views
Navigation and Tab Bar Controllers
Working with iPad-specific User Interface Elements
Web Views
Storing and Retrieving User Preferences and Data
Working with the iPhone's Accelerometer, Location Data, and Other Core Services.
Class Schedule:
The April classes will be held at the Hilton Garden Inn Cupertino, located at 10741 North Wolfe Road in Cupertino, California. The Cupertino class schedule is as follows:
Objective-C for Beginners: April 24-25
Introduction to iPhone and iPad Development: April 26-30
May classes will be held at About Objects, 1818 Library Street, 5th Floor, Reston, Virginia. The Reston class schedule is as follows:
ANSI C Programming: May 17-19
Objective-C for Beginners: May 20-21
Introduction to iPhone and iPad Development: May 24-28
###