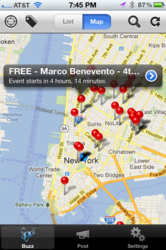 Goinbee replaces multiple news, event and deal apps and websites.
Miami, FL (PRWEB) July 11, 2012
A growing number of online networks dispense local news, others specialize on events and still others focus on local offers and deals. Unfortunately they all compete with one another so users must visit dozens of websites or install dozens of apps in order to see everything that is going on around them. Goinbee solves this problem by gathering news, events and deals from the most popular sites and bringing the information together into a single iPhone app.
"Having so much information in one place can be overwhelming especially in a big crowded city," said George Miranda, CTO and co-founder. "We solve this by geolocating and categorizing every post before it reaches the Goinbee app. Then all our users have to do is choose what their interests are and how far away they are willing to go."
Goinbee is also a great platform for sharing local discoveries with others. Users can post photos, daily happenings, current and future events, special deals and local offers. All posts can be shared with Facebook and Twitter plus other Goinbee and Addressgate (http://www.addressgate.com) users in the area.
Supported sources include Facebook Events, Yahoo Upcoming, Meetup, Eventful, Groupon, AmazonLocal, and more. The third-party sources supported by Goinbee is open-ended and growing. Visit http://www.goinbee.com for the most up to date listing.