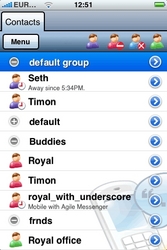 We are extremely excited about Apple's new iPhone and iPod Touch devices, and are fully committed to developing new software products for this platform
Seattle, WA (PRWEB) July 1, 2008
Agilemobile.com Ltd. , a software development company with its primary focus on development of software for mobile phones and handheld computers, today announced the release of Agile Messenger and Agile Forces for the Apple iPhone, iPod Touch and the new iPhone 3G.
Agile Messenger is a multi-protocol instant messaging client for mobile phones and provides a seamless connection to the public instant messaging networks of ICQ, AOL, Yahoo!, MSN, Google Talk and XMPP. Features include Agilemobile.com's multi-media messaging technology which enables users to send instant image, video, and voice messages from mobile to mobile and mobile to PC. In addition to the Apple iPhone and iPod Touch platform, Agile Messenger is already available for Windows Mobile, Symbian Series 60, 80, 90 and Symbian UIQ.
Agile Forces is truly a next generation mobile game and a great example of what the future of mobile multi player gaming is going to look like. Agile Forces is an online multi-player war strategy game. Players are able to challenge other players from all over the world through Agilemobile.com's matchmaking server or play in single player mode. This game features complex war strategy scenarios in both single player and multi-player mode, stunning graphics and over 100 challenging levels to keep the player occupied for months.
Free beta versions of Agile Messenger and Agile Forces for the Apple iPhone and iPod Touch can be downloaded, for instructions visit http://www.agilemobile.com/
"We are extremely excited about Apple's new iPhone and iPod Touch devices, and are fully committed to developing new software products for this platform," said Timon Haringa, co-founder and Technical Director of Agilemobile.com Ltd. "Agile Messenger enables people on the go to stay in contact with co-workers, family and friends, anywhere, anytime and any place. Thanks to Apple's advanced new devices our customer's user experience is becoming more intuitive and rewarding than ever."
Other Agilemobile.com instant messaging products include AgileLCS, a mobile enterprise instant messaging client for MS Office Communication Server and AgileIMPS, a Wireless Village client supporting the OMA IMPS standard.
About Agilemobile.com Ltd.
Agilemobile.com Ltd. is a privately owned software development company based in Bangkok, Thailand. The company's main focus is development of instant messaging and presence solutions for mobile phones and handheld computers. Agile Messenger, the company's flagship product, is distributed by the world's leading mobile operators and mobile phone manufacturers and is used daily by millions of people worldwide. For more information about Agilemobile.com Ltd. and its products please visit http://www.agilemobile.com .
Press Contact:
Seth Michaels
1-626-921-4555
smichaels @ agilemobile.com
# # #