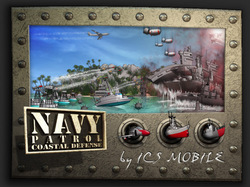 This is our second featured application following our breakthrough M-Train Fitness app. With close to 90000 apps out there, the fact that a tiny team like ours can be featured really shows that Apple's App Store is leveling the playing field and demonstrates that small developers can succeed while facing giants such as EA Games, Gameloft and others
Santa Monica, CA (PRWEB) October 12, 2009
ICS Mobile is proud to announce that Navy Patrol: Coastal Defense™for iPhone and iPod touch was selected in the "What's Hot" section of Apple's App Store. To celebrate the selection ICS Mobile is extending its $0.99 sale special.
"We were delighted by the reception of the game from iPhone gamers across the world" said Joe Bayen, CEO at ICS Mobile "This is our second featured application following our breakthrough M-Train Fitness app. With close to 90000 apps out there, the fact that a tiny team like ours can be featured really shows that Apple's App Store is leveling the playing field and demonstrates that small developers can succeed while facing giants such as EA Games, Gameloft and others".
Navy Patrol: Coastal Defense™ for iPhone and iPod touch brings several new layers to the Tower Defense genre by incorporating RPG and RTS elements into a water based environment supported by the company's AWS™ Fluid Simulation Engine.
ICS Mobile also announced that a major update of the full version of the game was recently submitted for approval. The new update will introduce a revamped and more intuitive user interface, backward compatibility with all older SDKs and a new "Attack Sub Turret".The third of fifteen chapter updates entitled "Air Force Supremacy" is currently in production and should be available for download within a couple of weeks.
Navy Patrol: Coastal Defense can be downloaded from the App Store here: http://phobos.apple.com/WebObjects/MZStore.woa/wa/viewSoftware?id=324167933&mt=8
About ICS Mobile, Inc.:
Located in Santa Monica, California, ICS Mobile is an iPhone development studio which focuses on location-based and server-based applications as well as gaming, productivity and lifestyle mobile applications. The company enjoys strong partnership in a variety of industry ranging from NBC Universal Inc in the media arena to The M-Train team on the fitness front.
# # #