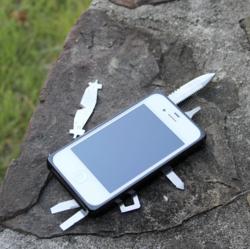 TaskLab is well on its way to bringing the first seriously useful iPhone multitool and bike tool case to market
Atlanta, GA (PRWEB) December 11, 2012
What happens when you cross a Swiss Army knife, a leatherman and a bike repair tool with an iPhone case? TaskLab has the answer and it can be found at their Indiegogo site http://www.indiegogo.com/TaskOne. TaskLab has invented a 16-bladed toolkit style case for the iPhone 4, 4s and 5 smartphones, which houses a 2.5" serrated knife, saw blade, screwdrivers, pliers, wire strippers, bottle opener, Allen wrenches spoke wrenches and other devices and tools that every MacGyver needs to have in their tool chest.
Apple's iPhones are one of America's most popular cell phones. Recent sales of the iPhone have surpassed more than 10 million and are expect to climb higher during the coming Christmas holiday shopping season. The success of iPhones have driven a lucrative market for third-party cases. Most cell phone cases are the standard run-of-the-mill shell with new colors or pictures printed on case, TaskLab's TaskOne ToolKit case has taken the iPhone case to a whole new level.
The project is currently seeking funding of $32,000 on the crowd funding website Indiegogo, and is offering a TaskOne case for the reduced price of $75 for the first 200 backers of the project.
"I spend a lot of my day using tools and always wish I had a multi-tool in my pocket, but never carry one due to the size, bulk and inconvenience of a stand-alone multi-tool," says Addison Shelton, inventor and recent Stanford University graduate. "They say necessity is the mother of all inventions. As a result of my own needs, I figured there were a lot of people like me that would enjoy having a handy toolkit bundled into their iPhone. This was how our TaskOne iPhone case was born."
"The case is light and strong enough to width stand abuse, not damage your phone, and even keep it safe when dropped." continues Shelton. "We also released a video on our website http://www.thetasklab.com/videos that shows some stress testing of the case with an iPhone 5 installed. Some might flinch when they see the tests, but the videos clearly show that the case is very well designed, solidly constructed and keeps the iPhone5 safe in some pretty extreme situations."
The case is geared toward engineers, handymen, bicyclists, outdoor lovers and anyone who likes to have some basic tools easily accessible at all times. TaskOne has a total of 16 tools, all of which are very capable of performing small to moderate sized tasks and are easily accessible via sliders on the backside of the case. The case shell is manufactured from a combination of aircraft-grade aluminum and polycarbonate that makes for a very strong and robust design, and at 89 grams for the iPhone 4 version TaskOne is surprisingly light.
The road for getting TaskOne to market will be swift and it is clear from the rapid 50% funding raised in just fifteen days that there is a tremendous demand for an iPhone toolkit.
"We are overwhelmed with the support of the project so far. We are not there yet, but are confident that we will reach our goal" say Shelton. "The TaskLab team has been diligently working around the clock on our PR campaign and social media, trying to get the word out about the case to our target audience of engineers, handymen, and outdoors men and women."
The TaskLab team has their manufacturers lined up and is ready to hit GO on production. The first cases are scheduled for shipment in April of next year. TaskOne still needs a few more supporters to reach the funding goal, so please take a look at this one-of-a-kind case at http://www.indiegogo.com/taskone, and pledge $75 or more to receive one of the first iPhone multi-tool cases ever developed!