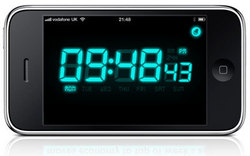 I love to keep up to date with the news headlines while lying in bed! And it reminds me I'd better get out of bed when it reads out my calendar events for the day.
San Jose, CA (PRWEB) October 31, 2010
News Alarm is an iPhone app that can read out RSS news feeds, and comes packed with a directory of hundreds of feeds including CNN, Fox and BBC.
This app can do much more than read the news, it can also read the calendar events from the iPhone calendar, speak the time, read a custom phrase or play an alarm sound.
Also included are five clock styles, each customizable with different colors, images and display options.
Feeds can be found by browsing categories such as "top stories" or "technology". Feeds are also listed by news source, which includes CNN, BBC, Fox, Yahoo and many more.
Any RSS feed URL can be used, and a submission feature allows users to submit new feeds to the directory if suitable.
Each feed in the directory can be rated from 1 to 5 stars within the app. This makes it possible to quickly find the best feeds in any category.
The news is read like a news bulletin – a short sound is played, then the headline is read and then the news summary. It is possible to customize the number of stories read, the voice used, the speed of the speech and the headline sound.
Custom alarms can be created by combining any number of the following actions:

News Feed: Reads out a news feed with the chosen voice, talking speed, number of items and bulletin sound
Calendar and Birthdays: This connects to the iPhone calendar and reads out any events scheduled for the day. It also looks in the contacts and reads out anyone who has their birthday on the day.
Speak the time: Read out the time in a choice of voices and speaking rate
Custom phrase: A custom phrase can be entered that is read out in a chosen voice
Alarm sound: This allows a choice of digital, retro or birdsong sounds, the duration of the alarm and whether it gets gradually louder
As an example, it is possible to create an alarm at 7:00am that begins with 20 seconds of a gradually increasing digital alarm sound, followed by the CNN top stories, then the calendar events for the day.
Alarms can be played at any time by pressing the play button on the alarms screen.
Each alarm can easily be turned on and off, played at any time and set to trigger on any combination of days of the week when you want it to trigger.
This fully featured app also contains 5 beautiful clock styles including LED, LCD, flip and analogue styles, with limitless options of themes, images and colors.
The app has a snooze feature, allowing selection of multiple snooze times that can be changed between 12- and 24-hour clocks.
This app features full support for iOS4 multitasking, fast-app switching and the high-resolution iPhone 4 Retina screen.
For more information and videos of the app in action, see newsalarmapp.com.
Full list of features:

Stunning HD clocks that supports the Retina display
Custom alarms with news, alarms, calendar events and more
Talking news reader reads the news headlines
Bulletin style news reader with 13 sound effects including bells, bongs and beeps
Daily calendar events can be read out
Wake up to custom spoken phrases
Alarm sounds include Digital alarm, retro alarm and birdsong
Gradually increasing alarms to wake up gently
4 different voices to choose from including US, UK, male and female
Ever growing number of news feeds (currently over 300)
Submission of new RSS feeds to the directory (reviewed)
News feed directory to find news sources by category or source
User rated feeds to find the best feed
News feeds from many news sources including CNN, CBS, BBC, Reuters, NY Times and NASA.
5 different clock styles with LED,LCD, flip and analogue style displays with multiple custom color themes and patterns
Multiple Snooze settings
Automatic Portrait and Landscape display modes
###