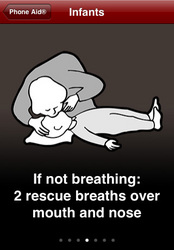 I've been teaching CPR to laymen and hospital staff for many years and realized that they soon forget what they've learned. In a stressful situation it is even harder to remember. To be guided step by step by audiovisual material helps you remember and dare to intervene while waiting for an ambulance
Göteborg, Sweden (PRWEB) October 21, 2008
Phone Aid, an application for iPhone and iPod Touch, is released today worldwide. Simple spoken instructions combined with pictures guide the user through the steps of Cardiopulmonary Resuscitation or how to act when someone is choking.
The idea for a Cardiopulmonary Resuscitation application for mobile phones came from Pontus Johansson, MD. He realized that many lives could be saved if people just dared to give first aid and remembered what to do.
"I've been teaching CPR to laymen and hospital staff for many years and realized that they soon forget what they've learned. In a stressful situation it is even harder to remember. To be guided step by step by audiovisual material helps you remember and dare to intervene while waiting for an ambulance," says Pontus and refers to an American Heart Association article which states that bystander CPR rates are low because people may fail to recall their skills and generally have a fear of failure.
The application has been developed together with Magnus Enarsson at Entanke, a software consultancy. He had already been programming for the iPhone when Pontus Johansson approached him about Phone Aid, and he immediately jumped at it.
This is knowledge that could be useful to everyone; you never know when an accident may happen. And you always have your mobile phone with you.
Phone Aid also presents an encyclopedia with 24 shorter texts describing what to do in a number of other difficult situations like snakebites, allergic reactions and burns.
You can download Phone Aid for free at App Store up to October 26, after which it will cost USD 2.99 including free updates.
For more information, pictures and video please visit http://www.entanke.se/iphone/phoneaid/
Pontus Johansson works as a doctor and teaches emergency medicine both nationally and internationally.
The company Entanke mainly focuses on web related development, but has also lately started developing for the iPhone.
# # #