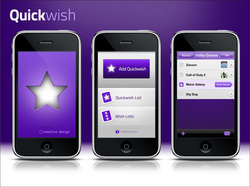 Quickwish allows you to send out the things you want to the people you know, using Twitter, Facebook and Email
Chantilly, VA (PRWEB) September 14, 2010
Quickwish is a social wish list application new to the iPhone and iPod Touch and is now available in the app store.
Quickwish allows the user to keep track of the things they want and send them to the people they know using Email, Twitter, and Facebook.
A simple to use application to add the things consumers want or need. Hit the "Add Quickwish" button and start filling in the information of their wish. Add as much or as little information as needed. The user can add a name, price, location, website or detailed notes about the objects of their desire. Another great feature available is taking a picture of an item they see so there is no guess work as to which item they wanted.
Need to organize a group of Quickwishes together? Create a Wish List and quickly file them into customized categories. Wish Lists can be labeled with an icon or a photo from a photo library.
Through social networks the user can let just a friend or the world know what they want. The user has the option to broadcast the cool things they're looking for using Twitter, Facebook, or send that long list of birthday wishes to their closest friends and family through email.
Features:

Quick Quickwish creation
Simple creation of Wish Lists to help organize Quickwishes
Keep track of each Quickwish with a custom name, price, location, website, photo, and detailed notes
Send out wishes through Twitter, Facebook and Email
Email single Quickwishes or full Wish Lists
Check off the items you receive
Someone fulfill a wish? Check it off and hit the send thanks button to send them an email letting them know they made a wish come true
iPhone 4 Retina display graphics
Quickwish is launching with a special introductory price of just .99.
Also a portion of the proceeds will be donated to the charity that gets the most votes from users posting their choice through Quickwish's twitter feature
###