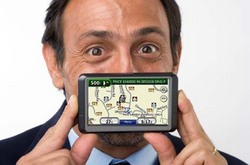 We'll offer exclusive rights to only one real estate firm in each market. The other companies should worry. Our unique GPS system and creative marketing will allow our partners to take the market lead.
Atlanta, GA (PRWEB) June 27, 2010
With today's real estate market slowly on the mend and the end of the Government's $8,000 first time home buyer incentive finished, agents and brokers are scrambling to find new ways to lure savvy home buyers to use their services. The problem is, every agent is offering the same basic services. What can agents, or for that matter, the firms they work for do to make them stand out in the crowd?
Some companies have built great little iphone apps for buyers to use. The problem is, so has every other company; which makes them in no way unique. Another problem with Smart phone apps, the buyer must have the right type of phone like the Apple iPhone or Blackberry to even use the application. This limits the number of buyers right off the bat.
Take into consideration that these real estate companies are asking the buyer to add Internet access and GPS service to their phone at a cost of around $40 per month or $480 a year to even use this service. That's not peanuts anymore. That limits another group of buyers.
Finally, these apps are time consuming to use. Let say you're in front of a property and just want to know the basic information. You have to access the Internet, type in data and wait for the listing information to be sent back to you. Sure they may offer pretty pictures of the house, but do you need that when you're sitting in front of the property and can just look at the real thing. Sure, it's cool at first but that only lasts for so long.
Since launching in June of 2006, Brilliant GPS has followed the market trends for both real estate and GPS technology. As the real estate market changed so has Brilliant GPS's marketing approach for the HomeFinder GPS system. "We now have a system that's perfectly geared for the slowing real estate market," says Thompson.
After working with hundreds of agents and home buyers that tested the system and gave their valuable feedback. The system is designed to meet their needs. Buyers wanted a system that was easy to use, that would guide them down streets and through neighborhoods that only offered properties for sale. They needed instant access to listing data and wanted to see as many homes as possible each day. Agents wanted a tool that would build buyer loyalty and still allow them control of their buyers. They also wanted to reduce cost by save gas, wear and tear on their cars while being able to work more proficiently with multiple buyers.
The final product is an all-in-one advanced real estate GPS search system based on the most popular GPS platform in the world (Garmin). I especially like there's no monthly Internet and GPS fees and a system that doesn't limit the users by the type of cell phone they use. HomeFinder GPS uses an advanced icon based map display to guide buyers in real time to any property through visual cues on the map screen. It takes less than 5 seconds to access any listing and holds more than 100,000 listing in memory for instant access. This system shows buyers by icon type on the map screen which homes are resale, foreclosure or short sale without having to enter any data.
After testing almost every real estate search app available, recommend anyone put this system up against any iPhone or Smart phone system and see which one makes more sense. It may not be the fanciest but it's brilliant in its simple design and ease of use.
For more information about the HomeFinder GPS system, visit homefindergps.com.
Contact
Mark Thompson
Brilliant GPS
Phone: 888.286-2298
Web: http://www.brilliantgps.com
###