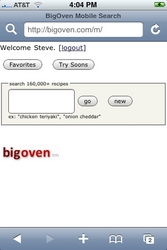 You can enter general search terms like 'easy breakfast eggs' or ingredients from your fridge, and get some great suggestions
Seattle, WA (PRWEB) September 29, 2008
BigOven.com, a rapidly-growing social network about food with 150,000+ members from around the world, announced the immediate availability of free recipe search for iPhone users. People can post their favorite recipes and photos to the site for free, and access them from anywhere.
"Now, if you're at the grocery store, and don't know what ingredients you need to make Chicken Cacciatore, simply visit http://www.bigoven.com from your iPhone, and bookmark it to the Home Screen", said Steve Murch, CEO and Head Chef of BigOven.com. "You can enter general search terms like 'easy breakfast eggs' or ingredients from your fridge, and get some great suggestions". BigOven for iPhone has specially tailored the interface to be clear and uncluttered for smaller cellphone displays.
Publish your Favorites, Carry Them With You
It's free to join BigOven.com, and members can easily build "Try Soon" and "Favorite" lists from a PC or Mac, then access them from their iPhone, Blackberry or web-enabled cellphone at the address http://www.bigoven.com/m.
About BigOven.com
Seattle-based BigOven.com is a rapidly-growing social network about food, with over 160,000+ recipes and about 150,000 members from around the world. Cooks can post recipes, photos, how-to cooking videos, and tips for free and search recipes in a variety of ways, including "what's fresh", "leftover wizard", flavor tags and more.
First released in 2004, BigOven.com now serves nearly 1.5 million unique visitors every month, up more than four-fold over last year. The founder, Steve Murch, has over three decades of experience in the personal computing industry, including executive-level experience at both Microsoft Corporation and Expedia, Inc.
*iPhone is a registered trademark of Apple Inc.
###