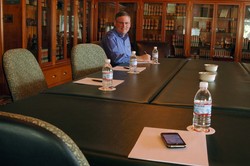 Many of our customers will never again think of their 'Phone' as just a 'Phone'.
Campbell, CA (PRWEB) July 14, 2009
Applied Voices LLC announced today that its ultra-sensitive HT Professional Recorder, which makes it possible for an Apple iPhone to record conversations clearly from across a room, is soaring in popularity as people find exciting new ways to use the technology. In Japan, HT Professional Recorder has been the #1 paid business application for the past seven weeks and was recently one of the top 5 paid applications for the Apple iPhone.
Appearing in settings that range from business conference rooms to coffee shops, people are using the recording capabilities of their phones in new and imaginative ways that had never been practical before. "What amazes me is the variety of reports we receive on how people use the HT Recorder technology," said Dr. Andrew A. Berlin, President of Applied Voices LLC. People are recording everything from real-estate transactions to community gatherings to business board meetings, and are sharing the recorded minutes instantly with the participants via Email.
College students are using audio 'bookmarking' of lectures to simplify note-taking and help review for exams. In doctor's offices, the technology has proven popular with both patients and physicians. Patients ask a physician to record follow-up instructions for later review, while physicians use the technology to send voicemail instructions to their staff. "Some of the most exciting uses are things we never would have imagined. For example, a caregiver reported that an elderly family member who can barely speak or move is able to record his memoirs by whispering into his phone, and a father-to-be reported using his phone to record sounds of his unborn baby," said Dr. Berlin.
This new generation of phone-based recording technology can capture even very long events such as multi-day conferences and a full semester of classroom lectures. For instance, the newest model of iPhone can store high quality audio from more than an entire month of 8-hour business days, and can E-mail the recordings wirelessly to co-workers and friends. The HT Technology works by using knowledge of human speech patterns to focus the recording on the sounds of people talking, without unduly amplifying background noise. Customers report using the technology with good results even in relatively noisy environments, such as coffee shops, aircraft, and automobiles.
"Having HT software and an incredibly powerful computer in your pocket is really starting to change people's lives and work-styles," said Dr. Berlin. "Many of our customers will never again think of their 'Phone' as just a 'Phone'."
About Applied Voices LLC: Applied Voices LLC is a software development company that specializes in applications that blend the world of computing with people's senses in new ways. Applied Voices was founded by Dr. Andrew A. Berlin, a scientist who invented the speech enhancement algorithms utilized in the HT Professional Recorder.
HT Professional Recorder is available for purchase from the Apple iPhone App Store.
Apple iPhone is a trademark of Apple Corporation
HT Professional Recorder and HT Pro Recorder are trademarks of Applied Voices LLC
###