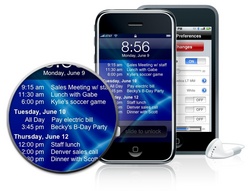 You'll never miss another meeting, conference call, or soccer game because you forgot to check your appointment schedule. RemindYou's effectiveness lies in its simplicity
TULSA, Okla. (PRWEB) June 9, 2008
RemindYou is a simple, yet powerful application which turns the iPhone into a time management dynamo by significantly increasing access to the user's appointment schedule. RemindYou syncs iCal, Outlook, or Entourage events to the lock screen of the iPhone and displays upcoming appointments every time they use the phone.
"Everyone is familiar with Apple's commercials showing the iPhone being answered with the swipe of a finger. That screen, a picture of the earth from space, is perhaps the most viewed, under utilized screen on the iPhone - it is seen every time the phone is unlocked - literally dozens of times a day for the average user. RemindYou retrieves the owner's appointment schedule and overlays it onto that screen," said Make Your Day Media, CEO, Benjamin Shell.
"Once installed, you begin to rely upon your iPhone for your appointment schedule, something you can not do easily without RemindYou. It's addictive and can literally change the way you use your iPhone. It becomes second nature to glance at your schedule every time you unlock the iPhone to answer a call, check your email, or browse the web."
"You'll never miss another meeting, conference call, or soccer game because you forgot to check your appointment schedule. RemindYou's effectiveness lies in its simplicity," said Shell.
RemindYou features include:
Adjustable font, size, and color 24-hour time format support Ability to dim bright wallpapers Show appointments 6 weeks away. Can show over a dozen appointments Low-power requirements, will not drain iPhone battery 14-Day Free Trial Download
RemindYou is available to everyone as a free download with a 14-day free trial and a lifetime license can be purchased for only $19.95, which includes all RemindYou features.
Until available in the new Apple iPhone 2.0 App Store, RemindYou is a native iPhone application published for "jailbroken" phones and can be installed under the "Productivity" category of Installer.app.
For more information about RemindYou, please visit http://www.makeyourdaymedia.com.
About Make Your Day Media LLC.
Make Your Day Media LLC publishes applications for the Apple iPhone. The company's management has been developing software since 1984 and has played an active role in Macintosh cross-platform software development for over 100 titles. The company anticipates future iPhone application development will revolve around software which changes the way people use their iPhone.
RemindYou® is registered trademark of Make Your Day Media, LLC, and iPhone® and Macintosh® are registered trademarks of Apple, Inc. (Nasdaq: AAPL).
Editors Note: The company is encouraging media personalities who use the Apple iPhone to review RemindYou in real life environments. Qualified journalists may request an extended license for evaluation purposes from the company at (918) 855-5399 or sales@makeyourdaymedia.com.
MULTIMEDIA GALLERY http://www.businesswire.com/cgi-bin/mmg.cgi?eid=5704595