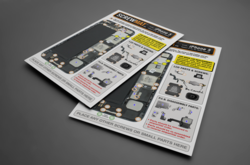 ScrewMat.com is excited to team up with EasyPhix to further distribute Screwmats across Australia
Tulsa, OK (PRWEB) January 14, 2013
Screwmat, a popular magnetic repair guide for cell phones and handheld devices in the United States, is expanding further into Australia through a new distribution agreement with EasyPhix. This partnership will open new distribution channels to repair centers who need Screwmats in Sydney and throughout Australia.
EasyPhix will be carrying the full line of Screwmats for GSM devices that are currently available in the United States. The Screwmats help phone repair companies and consumers throughout Australia repair their devices.
According to Tony Baker, Vice President of Marketing for ARI Inc., "ScrewMat.com is excited to team up with EasyPhix to further distribute Screwmats across Australia." Baker added, "Screwmat has seen great success in the United States, and many repair technicians are utilizing our products. We expect the agreement with EasyPhix, to mirror the success we've had in the United States in Australia."
Screwmats, are magnetic repair guides, intended to keep the variety of screws, washers, nuts and bolts attached to today's smartphones in order during the repair disassembly and reassembly process. Through this unique and innovative system, repair technicians have the ability to place all screws associated with smartphone or device in an organized fashion, which makes it far more efficient and easier to put the phone back together when repairs are done.
Screwmat, a patent pending invention since 2010, is built on the principle of engineering an easy, efficient and effective manner of repairing and replacing parts for the most popular cell phones, smartphones and handheld devices in the world. Screwmats are available for all popular phone models including; the iPhone 5, the iPhone 4s, the iPhone 4, the Samsung Galaxy S3, and the iPod Touch 4th Generation. All the Screwmats for GSM handheld devices that are available in the United States will be available through the Australian vendor with EasyPhix.
For further information about ScrewMat, visit: http://ScrewMat.com
About ScrewMat:
SCREWMAT was founded in 2010 to help cellular phone repair professionals and do-it-yourself amateurs efficiently and easily repair and replace parts within cellular phone, smartphone, and handheld devices. ScrewMat is a member of PRprofile.com, a website dedicated to helping businesses build a publicity presence online.
The ScrewMat is currently available through a network of distributors and part suppliers in the United States and around the world. Tool and wireless part supply stores are encouraged to take advantage of this opportunity and apply to become an official ScrewMat distributor by completing an application at: http://SCREWMAT.com