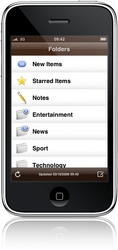 Byline's new interface is sleek and powerful
London, United Kingdom (PRWEB) October 15, 2008
Phantom Fish today announced the release of Byline 2.0, a major update to the RSS news reader and offline web browser for iPhone and iPod Touch. Byline's new features include a streamlined interface for browsing folders from Google Reader, a built-in web browser for online and offline browsing, and a function to create and share notes.
"Byline's new interface is sleek and powerful," said Milo Bird, the developer of Byline. "You can star, share, and create notes from articles, and your changes are automatically kept in sync with Google Reader."
Byline provides offline access to all articles, including embedded images, making it ideal for use on the subway or in areas with poor 3G reception. In addition, Byline's offline browsing feature offers instant access to complete web pages, as explained in the Byline video tour.
Byline is available from the App Store at a special introductory price of $3.99 USD.
Phantom Fish is an independent software development company focused on creating software for iPhone and iPod Touch.
# # #