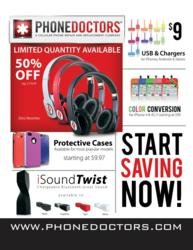 If you need to replace your broken iPhone screen, then you may as well do it with a little style.
Tulsa, OK (PRWEB) November 26, 2012
Phone Doctors is celebrating Cyber Monday by offering up to 50% off Zoro audio products and 15% discount on most repair parts and DIY repair kits when consumers use the coupon code of CYBERMONDAY during checkout. Phone Doctors specializes in providing consumers with DIY Kits for iPhone and Android repair, as well as providing a variety of cases, chargers and audio sports gear and accessories.

Zoro NoonTec Stereo Headphones are now $64.99. (50% savings)
YurBuds Headphones are as low as $33.99 with coupon.
iSound Twist BlueTooth Speaker are on sale at $53.54 with coupon.
All iPhone DIY Kits and LCD color conversion and trim kits are 15% off when customers type in coupon code: CYBERMONDAY
"If you need to replace your broken iPhone screen, then you may as well do it with a little style." said Tony Baker, Vice President of Marketing for Phone Doctors. "Customizing the LCD color, trim colors and the battery cover color allow iPhone lovers to show off their favorite mobile device with their own color combinations."
Phone Doctors provides DIY repair kits and repair training videos on all major smartphone and mobile devices at their interactive website at http://PhoneDoctors.com
For more information about Cyber Monday deals at Phone Doctors, please call 1-855-234-9483 or visit: http://PhoneDoctors.com
About Phone Doctors
Phone Doctors is the original cellular phone repair center in Tulsa, Oklahoma. Phone Doctors has been providing cell phone repairs in Tulsa since 2004, and has 5 corporate locations and 20 licensed dealers in the United States. Phone Doctors technicians are certified IPC – CIT (Certified IPC trainer ) and IPC – CIS (Certified IPC Specialist) technicians. Phone Doctors provides consumers with a full six month warranty on all iPhone and Android repair services on all smart phone device, including Apple, HTC, Samsung, LG, and all popular makes and models.