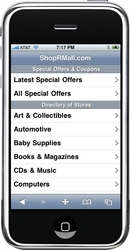 Charlotte, NC (PRWEB) July 17, 2008
ShopRMall.com, a shopping portal that offers direct links, coupons, and special offers for online stores, has launched iphone.shoprmall.com, an iPhone/iPod Touch version of the ShopRMall.com web site. The new site includes daily coupons and special offers along with easy access to over 1,000 name brand and specialty stores, all from a familiar iPhone interface.
Stores in ShopRMall.com include The Apple Store, Dick's Sporting Goods, Fingerhut, JCPenney, Overstock.com, Staples, Amazon.com, Bowflex, Macy's, Best Buy, and Brookstone.
This is not ShopRMall.com's first foray into the mobile realm. In 2001, Eric J. Katowitz, a professional multi-platform engineer and graphic designer with Cire Web Site Design & Hosting, along with his cutting edge team of experts, launched mobile.shoprmall.com for various mobile devices and cell phones, including those running the Blackberry, Palm, and Windows Mobile platforms. That site is a coupons only version that allows users to browse the latest special offers, but not purchase products directly.
ShopRMall.com and Cire Web Site Design & Hosting, owned by Cire Computer Productions, Inc., an e-commerce technology and interactive services provider, offers what could potentially be a new trend in mobile commerce. The keystone of this trend is the ability to allow shoppers to browse and purchase products directly from each merchant's online shopping web site via their iPhone or iPod Touch.
###