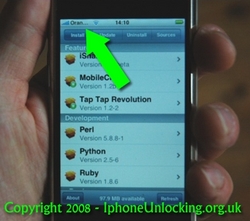 Manchester, LA (PRWEB) March 1, 2008
IphoneUnlocking.org.uk have now produced an extremely easy to use iphone unlocking software, which will ensure the successful unlock of all iphones worldwide.
With this brand new "one click" iPhone unlocking software, iphone owners can unlock the iphone with extreme ease in under 5 minutes, with just the click of a button.
The iPhone unlocking software is the ticket to being able to use the iPhone in exactly the way that you would like. Upon acquiring the software, the iphone will be unlocked in under 5 minutes and will enable the owner to begin experiencing the full potential of the iphone.
The iphone unlock software is capable of unlocking all iphones, from the 4GB v1.0.0 to the latest 16GB v1.1.4.
Unlocking the iphone will allow the use of any type of GSM Sim card from all over the world. Users can also enable the iPhone to have full iPod capabilities. Aside from the iPod capabilities, you can also use your iPhone to watch YouTube videos and use popular applications such as Google Maps.
Some more great features of using the software to unlock your iPhone is that you will be able to read RSS Feeds, use your client chat interface, and browse the net through the easy to use WiFi connection interface. Another great feature that users will receive is the iPhone Stumbler, which is only mated to the iPhone and will allow the user to view any wireless network in his or her area. Roam and connect at will with your unlocked iPhone.
Not only does the iPhone Unlock Software allow all of these great features, it is also extremely easy to use:

Connect the iphone to a computer
Run the software
Click "Unlock Iphone"
The Iphone will now be unlocked
The process will take under five minutes to complete, and is accomplished easily and with no hassles or worries. This is the simplest iphone unlocking software on the market today, and anyone can easily take advantage of it today for a very reasonable price.
PRODUCT REVIEWS WELCOME.
###