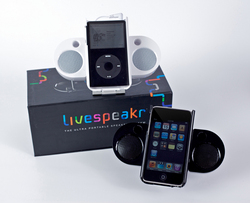 …these little tykes overcame most of the tinny highs and nonexistent lows many ultraportable systems are cursed with.
Carlsbad, CA (PRWEB) October 13, 2009
What do you get the person who has everything? Whether it's your mom, grandfather, nephew or sister, Livespeakr™ is the answer. Livespeakr, the perfect gift for every iPhone, iPod touch, or iPod classic owner out there, is the most portable and flexible speaker system that iPhone/iPod products have ever hooked up to! Livespeakr features superb sound quality unaffected by radio frequency interference. First-time Livespeakr customers are blown away by the volume and sound quality emitted from such a small gadget. With speakers compact enough to fit in your pocket and a design that accommodates both landscape and portrait orientations, this isn't your ordinary portable speaker system; this is Livespeakr.
Livespeakr is an ultra-portable speaker system specifically designed to maximize the functionality of all generations of the iPhone, iPod touch, and iPod classic. The expanding stereo speakers seamlessly transform from portrait to landscape with a twist of the hand and are powered by a rechargeable Li-ion battery to allow for 16 hours of acoustic bliss. As an added convenience, Livespeakr can be charged through the provided USB cable or included AC Adapter. Integrating with the iPhone, the Livespeakr shields against radio frequency interference and reduces unnecessary cellular static to provide the best sound quality. Given its powerful high-end sound and its compact size, the Livespeakr is truly a one-of-a-kind product.
Key features of the Livespeakr:

Extremely powerful sound for its tiny size.
Compact design allows the Livespeakr to fit in your pocket.
Rotating cradle allows the Livespeakr to work with all generations of iPhone and iPod touch in both portrait and landscape mode.
Speakers expand outward so no sound is blocked when working in landscape mode.
Built-in rechargeable Li-Ion battery powers the Livespeakr up to 16-20 hours of use.
Radio Frequency shielding allows for an undisturbed listening experience.
Livespeakr has been reviewed by many reputable sources and the results have been extremely positive. Chris Pirillo, a technology TV host for CNN, commented on the rich/deep sound of the Livespeakr and said the speakers "really kick". Livespeakr was honored by PCWorld on their list of 10 Cool New Mobile Gadgets. A reviewer from TUAW, The Unofficial Apple Weblog, reported, "I was astonished that such a big sound was produced by such a small speaker system- it reminds me of having a miniature iPhone boom-box." Scott Powers of the Chicago Tribune wrote, "…these little tykes overcame most of the tinny highs and nonexistent lows many ultraportable systems are cursed with." Additionally, the Livespeakr was recently featured as a finalist in CEPro's coveted "Best Of" awards.
From rocking out to your music collection with friends; sharing movies, TV-shows, Pod-Casts, and videos; enhancing apps like Pandora, Slacker Internet Radio, Sirius XM App; to playing video games at full volume, and listening to audio books while relaxing at the day spa, the Livespeakr is extremely versatile for a variety of activities and situations.
As the holiday season approaches, Livespeakr is the must-have and must-give accessory for every iPhone, iPod Touch, or iPod Classic owner.
Livespeakr is currently available for $79.99 (U.S. MSRP) at Amazon, NewEgg or Livespeakr. For distributor/wholesaler inquiries, please contact DGA Marketing Director, Justin Liu, at Justin (at) Livespeakr (dot) com or 888-345 4834 ext. 708. Media inquiries may be directed to Caroline Callaway, at (760) 918-0792 or DGA (at) BoltPR (dot) com .
About Digital Group Audio (DGA):
Digital Group Audio (DGA) has recently been named one of "America's Most Promising Start-ups" by BusinessWeek. DGA was founded in 2007 as a start-up dedicated to manufacturing innovative, high quality audio/video products that are functional and stylish. DGA travels the world searching for the highest quality parts and speakers to ensure each DGA sound system offers supreme sound quality unlike anything else. Products are designed to make consumers' lives easier and more enjoyable without compromising style. DGA is a privately held company based in Carlsbad, CA. For more information, please visit Digital Group Audio.
iPod® and iPhone® is a registered trademark of Apple Computer Corporation. Livespeakr™ is a trademark of Digital Group Audio (DGA) and the technology behind Livespeakr™ is patent pending in the United States. © Digital Group Audio (DGA), all rights reserved. All other trademarks are the property of their respective owners.
###