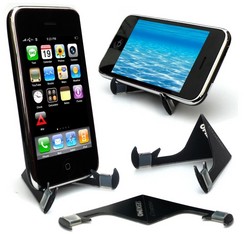 The Crabble is an essential accessory for the serious iPhone user
London, England (PRWEB) April 6, 2009
No other iPhone stand comes close to cramming as much functionality into such a small package as Seskimo's new Crabble. Designed for the iPhone and iPhone Touch, the Crabble also supports a variety of other small media players and smartphones (see below), including many cases and skins.
The Crabble works in both landscape format for video, and portrait format to see incoming calls, and it incorporates rubber feet to cope with the sloping surfaces and vibrations of trains and planes. The landscape viewing angle is adjustable back to 45° by moving the crab-like claws in or out. Although slightly larger than Seskimo's original credit-card sized stands, the Crabble fits, unfolded, in a normal billfold wallet making it easy to store and always easy to find. An essential tool for the iPhone or Touch power user, at $4.99/€3.99/£3.49/¥499, it is one of the cheapest iPhone accessories on the market.
Tired of holding your media player up in front of you? Take a Crabble with you wherever you go, slip it out of your wallet, and watch the news in Starbucks, or sit back on the plane and watch a movie, all hands-free. Back at work, use it to support your phone in portrait format to see incoming call details or in landscape to keep an eye on business news. At your bedside, use it for a digital clock application like Night Stand.
Made of durable and recyclable polypropylene, the Crabble is available in black or translucent from Seskimo's website and worldwide delivery is free for quantities of two or more. Other colors are planned. Seskimo welcomes approaches from local distributors and retailers, and from businesses interested in custom printed Crabbles. The Crabble is made in England.
Suitable devices include: Apple iPhone, iPhone 3G, iPod Touch, New iPod Touch, iPod Classic (portrait), iPod Nano (landscape only); Blackberry Curve 8900 (portrait); HTC Touch; LG Cookie, Renoir, Viewty; Samsung Pixon, Soul, Tocco; Sony Ericsson 302, 580, 700, 760, Experia (landscape only).
About Seskimo and the designer - London-based Seskimo is run by Courtenay Inchbald, who has recently returned to product design, his original vocation and in which he graduated with first class honours from Central St Martin's long ago, after a career in corporate strategy focussed on digital media. Seskimo's original products, the BullRest and BatRest, remain the only iPhone stands as small as credit cards.
Courtenay Inchbald, says, "The Crabble is an essential accessory for the serious iPhone user", "You need a Crabble to make full use of your iPhone on the move", "I'm very pleased with the Crabble - it squeezes a lot into a tiny product", "Slip a Crabble in your wallet to use your iPhone hands-free anywhere", "The Crabble is one of the most useful iPhone accessories on the market, and one of the cheapest".
###