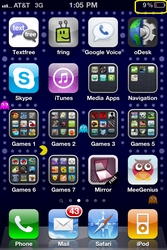 Many Of These iPhone Tips Are Not Found On Apple's Own Website.
Livingston, NJ (PRWEB) September 27, 2010
Kenny Jahng, publisher of Essist Me.com, announced a compilation of tips from super-users that almost every iPhone owner would want to know about -- how to extend the battery life of the mobile device when you are out and about. Since the iPhone platform has seen major advances with each iteration -- including battery-hogging HD video and video conferencing in the current iPhone 4 version -- users are seeing the need to effectively manage their battery life in a proactive manner.
The site surveyed super-users of the iPhone smart phone device and found numerous habits that they employ on a regular basis to get the most out of a single charge of the iPhone battery. "Yet many of these tips are not found on Apple's own website," said Mr. Jahng.
The result is a published list of 17 specific habits that heavy users of the iPhone typically use in order to maximize the time between charges. The tips offered on the http://www.essistme.com website are useful for road warrior travelers, soccer moms and youth alike. In fact, the majority of tips offered in the final list easy to understand and able to be employed by almost any iPhone owner.
EssistMe.com is published by Kenny Jahng -- founder and CEO of Big Click Syndicate LLC, an online marketing consulting group based in New Jersey, just outside of New York City. The website's (http://www.essistme.com) aim is to provide tech and gadget tips in plain English on everyday technology devices and issues. You can connect with Mr. Jahng at http://www.essistme.com or on http://www.twitter.com/kkcoolj
# # #