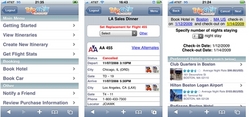 Stratham, NH (PRWEB) January 14, 2009
The TripChill iPhone Interface is now available for purchase on the TripChill website. The iPhone interface provides an iPhone touch experience for the TripChill mobile travel assistant service, the only true travel assistant for iPhone users. According to Alex Shore, Skyward Innovations President & Co-Founder, "We are excited to announce the TripChill iPhone interface, which is now available at an introductory purchase price of $5.99. This is the user experience that our iPhone users have been waiting for. More and more travelers now have iPhones, and they can now benefit from the proactive monitoring and itinerary repair that TripChill offers. Unlike standard travel monitoring services from airlines and online travel agencies, TripChill is a mobile travel assistant that delivers a personalized experience with targeted information and the ability to quickly take action to resolve problems. The iPhone web interface adds even more value by providing new mobile features such as local Google Maps integration, a unique graphical alternate flights view, and the ability to configure friend notifications for travel status updates."
TripChill begins monitoring travel itineraries before a trip even starts. The service detects changes in flight and hotel information and alerts the traveler. It provides a situationally-aware mobile interface that tells the traveler the current status of their next flight and exposes mobile access to itinerary details such as phone numbers, confirmation numbers, and notes entered by an office administrator. TripChill delivers smart notifications to the traveler that provide targeted, actionable information when issues arise, such as missed connection warnings, inbound aircraft status, and alternate flight suggestions. The service has advanced logic that is constantly validating travel itineraries and prompting the user to repair conflicts, such as hotel reservations in two locations for the same night due to a traveler being stranded. TripChill works on all mobile devices that have a web browser, and can also communicate on standard cell phones using text messaging. Travelers can book hotel and car reservations over their mobile device at the last minute when traveling.
About Skyward Innovations:
Founders David Miller, Alex Shore and Christopher Holt were part of the mobile device revolution, starting with the first versions of the Palm Pilot and the Windows CE devices during their tenure at Pumatech based in San Jose, California. They understand the various mobile form factors and how to implement the correct user experience for cell phones and smart phones, as they were core members of the engineering team that built Pumatech's Intellisync product for synchronizing mobile devices and desktop applications. Their dedication for developing a consumer travel service began with their connections in the airline industry and their personal travel experiences.
###