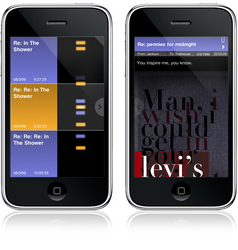 Most of the content is pretty steamy, but more importantly, after reading and piecing together the splintered memories of the story, I was reminded of the turns and depth two people discover when they fall in love.  As editor, I realized we had something
New York, NY (PRWEB) November 12, 2009
After sifting through the debris of countless corrupted email files restored from an old hard drive, First Fifteen's producers worked like digital archeologists to unearth the love story lost and frozen in digital bits from 1996. They painstakingly removed page-after-page of binary noise to piece together an alluring narrative that tells the story of a long-distance love affair bound together thorough — and, resurrected by — digital technology.
The original e-mail authors, a young woman, who goes by the moniker, TREEHOUSE, and the object of her affection, a funky graphic designer named, Jackson, are the protagonists of a true love story best described as a mix of Griffin & Sabine, You've Got Mail and The Notebook, though slightly more risqué. The history between TREEHOUSE and Jackson slowly reveals itself as we discover a relationship long and wide in scope and substance and involves a mutual appreciation of film, literature, and strangely, The Artist Formerly Known as Prince (as he was then known). Simply put, you've got to read it to believe it.
First Fifteen's editor, Joseph Alan Wachs, says he is more interested in protecting the truthfulness of the source material than he is in exploiting suggestive content: "Most of the content is pretty steamy, but more importantly, after reading and piecing together the splintered memories of the story, I was reminded of the turns and depth two people discover when they fall in love.  As editor, I realized we had something very pure and honest here to be preserved."
The TREEHOUSE interface was developed through the design firm FORMation, which CasualGaming.biz recently dubbed "one of the most exciting iPhone developers of the moment." Jason Franzen of FORMation sums up his design concept succinctly:  "I wanted to present the e-mail dialogue in a style suggesting a Mail Reader to heighten the voyeuristic nature of the experience, but I also wanted to create something that highlighted the back-&-forth nature of the dialogue, so items like color-coding and a timeline were added to emphasize these unique aspects of the communique."  
TREEHOUSE: a found e-mail love affair (the entire series of four Appisodes™), is now available on the iTunes App Store. A soundtrack of music recommendations is also available through the iTunes' iMix system. Readers can listen to the soundtrack while exploring the e-mails for a fully-immersive experience. Download the first FREE Appisode™ now.
View the Preview Trailer here.
Access Press Assets here.
--
First Fifteen is a specialty press and new media producer. Projects range from limited edition print to new dynamics in publishing using the iPhone and other compatible devices.
FORMation is a multi-discipline design firm based in Dallas, TX. Their recent work focuses on the creative exploration of the iPhone App as a new tool for creativity.
###