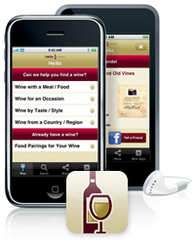 You're standing in the store with hundreds of bottles in front of you, with no idea which wine to buy - Hello Vino takes the pressure off.
San Francisco, CA (PRWEB) June 30, 2010
Hello Vino takes the difficulty out of buying wine by delivering personalized recommendations to your iPhone or iPod Touch.
The free app, available through iTunes, selects the perfect type of wine to go with a meal or occasion, or to give as a gift. Wine shoppers need only install the app, and answer a few simple questions to get a specific wine recommendation. Hello Vino offers wine consumers an easy way to make an educated wine purchase both in the store and at a restaurant.
New features include detailed wine reviews from Certified Specialists of Wine (CSW) and sommeliers certified by the Master Court of Sommeliers. Additional features within Hello Vino include a search engine powered by Wine.com, with the ability to share wines on social networks such as Twitter and Facebook.
Hello Vino has served over 5.5 million wine brand recommendations since the app was released in June, 2009. The app organizes the thousands of wines available to consumers by offering wine pairings to go with a meal, or suggesting wines for a special occasion.
The popular wine app recommends wine varieties such as Chardonnay, while offering specific brands to help consumers pick the ideal bottle. Wine brand details include the label image, vintages, price, tasting notes, and region of origin. Ratings and reviews from both professionals and peers are also provided to help consumers with their selections.
"Buying wine can be overwhelming," says Hello Vino CEO Rick Breslin. "You're standing in the store with hundreds of bottles in front of you, with no idea which wine to buy. Hello Vino takes the pressure off."
The most popular requests by Hello Vino users include holiday-specific recommendations. The app provides wine suggestions for occasions such as 4th of July festivities, with wine pairings for summer grilling and seasonal fare.
The free Hello Vino app has been featured as a "Staff Favorite" by Apple within their iTunes App Store, and received a #1 ranking on the 'Top 50 Wine iPhone Apps' report by Vintank, a digital think tank for the wine industry.
Download the free app through iTunes: http://bit.ly/freewineapp
About Hello Vino:
Hello Vino delivers wine recommendations to PCs and mobile phones, providing wine consumers with the perfect bottle for a meal, occasion, or gift. The free service is available on any cell phone through a free iPhone app, mobile web site, or text messaging service. More information, including video demonstrations and feature lists, are available at HelloVino.com.
Contact:
Jim McNamee, VP Marketing
(800) 599 8478 ext 708
jim(at)hellovino(dot)com
http://www.hellovino.com
###