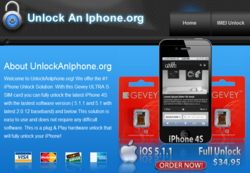 (PRWEB) October 04, 2012
All apple iPhone lovers received the news of the launch of the iPhone 5 with excitement and very high expectations. People have also upgraded to the latest iOS versions to enjoy the new features. A number of people that have iPhone 3G/3GS can return the iPhone to the service provider. They can also sell it, and unlocking the iPhone 3G or 3GS also increases the value of the iPhone. With the iPhone 5 release, Unlockaniphone website now offers IMEI unlocking service at unlockaniphone.org/112-2-3-2.html for new or used iPhone 3G/3Gs model.
The team at UnlockaniPhone unlocks iPhone 3G/3GS so that people can use the phone on any network carrier of their choice. They can also install more apps and tweaks that were previously restricted. One major benefit of this procedure is the ability to use the unlocked phone on any GSM network around the world. Unlockaniphone is made up of experts that are passionate about iPhones and have extensive knowledge in this field. They have all the experience they need as far as iPhone unlocking is concerned, and they possess the skills necessary to handle any queries and requests about unlocking that may arise. They have hands- on experience unlocking iPhone models ranging from 2G up to the latest iPhone 5. They understand the importance of unlocking to the customer thus will always get the correct unlocking code for the particular device.
A user needs to provide his/her IMEI number to the team and the unlock code is sent to his/her email address. Once the code is received, the user can then use it to unlock the iPhone by themselves. Helpful instructions are also provided. After getting the email, the phone can be connected to iTunes and a message will be returned confirming successful IMEI permanent unlocking.
The IMEI unlocking service from unlockaniphone website also has several benefits. The service is permanent, meaning that even If the iOS is upgraded, the user will still have the functionality of an unlocked iPhone 3G/3GS. This procedure does not void the warranty from Apple. It is still there in case of anything. With successful unlocking, handset functionality will also improve. The owner can also still enjoy the features, performance, and perks offered by the original unlocked iPhone. The unlocking is compatible with all basebands. When unlocked, the phone can be used anywhere in the world with any GSM service.
Getting fast, timely and reliable IMEI unlocking service for the iPhone 3G/3GS is not a simple task. Permanent IMEI iPhone 3G/3GS unlock service is now available at http://www.unlockaniphone.org/112-2-3-2.html.