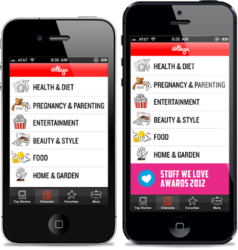 Quickly Enhance your iPhone app to be awesome on the new iPhone 5! Your customers will demand it!
(PRWEB) September 20, 2012
Apple announced the long awaited iPhone 5 & iOS 6 release with sales expected to reach close to 50 million units by Christmas. The excitement for the iPhone 5 has been phenomenal, which means a new & larger audience for mobiles apps. Stephen Harris, VP/Business Services for TkXel states, "Many mobile apps will benefit from the new features of iOS 6 and the iPhone 5 platform, including the larger screen size & resolution and faster processors. Will your app be compliant for this new audience?"
TkXel is offering an exclusive 3-Point service that will quickly bring mobile apps up to the new awesome standards.
iPhone 5 and the new iOS6 offer an increased screen size (1135x640 / 4" vs 960-by-640 / 3.5"), new and faster wifi chip and the A6 processor, twice as fast as the iPhone 4s. New touch screen sensors, 3D navigation and upgraded camera all make for an incredible new mobile experience.
TkXel has developed over 300 apps and are currently upgrading client mobile apps to this exciting new level.
The TxKel Three-point Upgrade Program includes:
1. Review the existing iPhone application and provide specific and detailed recommendations for enhancing the UI to optimize on the new screen size and resolution, including screen prototypes.
2. Upgrade the iPhone application operating system to ensure compliance with io6
3. Recommend enhancements for the iPhone application to optimize for the new OS features including touch screen sensor, 4G/LTE and increased processor performance.
This service, which is usually completed and submitted to the Apple Store within 2-3 weeks, is offered at a special low price of $3,000 USD.
With TkXel's expertise, customers and mobile app users will experience the incredible power of iOS6 and iPhone 5 quickly. Contact TkXel today to learn more and get queued for this exclusive service and begin to provide your users with an awesome new mobile experience.
We also offer a similar program for creating an exciting experience on iPad and other tablets, and offer special discounts based on volume and special programs for Marketing Agencies.
Learn more and sign up today at http://www.tkxel.com/mobile/iphone5-app-upgrade/
About TkXel:
TkXel is a web, mobile and social media development company with over 300 app in the Apple Store and over 200,000 hours of web programming experience. Clients include a major media corporation in NYC, an innovative and exciting Recipe Company and many other well known brands, smaller businesses, agencies, and entrepreneurs. Contact Stephen Harris, VP/Business Services at (800) 919-0180 or info(at)tkxel(dot)com.