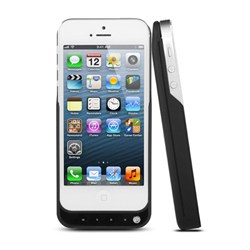 Battery is always an issue for smartphone owners. It's great to have the security of extra battery power and a case in one package.
Birmingham, West Midlands (PRWEB UK) 4 December 2012
Battery life is always an issue for smartphone users: the smarter the phone the more it's used and the more the phone's used the quicker the battery drains; it's a vicious cycle. However, Mobile Fun have sourced a solution for iPhone 5 users, the Power Jacket Case, which is the first iPhone 5 battery case of its kind.
Not only a battery but also a protective iPhone 5 cover, the Power Jacket boosts the battery of the iPhone by 2200mAh whilst keeping the smartphone free from damage caused by daily bumps, drops, scrapes and scratches.
The 2200mAh battery in the Power Jacket is enough to offer a full charge to the iPhone whilst leaving an extra power boost for when needed. Therefore, should the iPhone 5 charger be forgotten or lost the user can keep the iPhone juiced up until re-united with a charger: battery panic and worries are over.
Simple to use and re-charge, the Power Jacket uses LED lights to indicate the battery level left in the Power Jacket, the battery level of the iPhone and when the device is fully charged, so there isn't any extra battery power wasted.
What's extra special about the Power Jacket is that it also includes a handy stand so that the iPhone 5 can be docked at a great angle for streaming media, swiping and playing games. This is great for using when on public transport or simply docking the iPhone whilst at home or in the office as it's easy to see any new notifications.
The iPhone 5 battery Power Jacket case contains all the cut-outs to keep the iPhone fully functioning including the camera port and volume buttons. Therefore the case doesn't need to be removed to use the iPhone so it's always protected and always has access to extra power.
Available to pre-order now in either black or white from Mobile Fun the iPhone 5 Power Jacket case is the first of its kind and the perfect accessory for those who use their iPhone to the max.
About Mobile Fun
Birmingham based MobileFun.co.uk is the UK's biggest online retailer of Mobile Accessories, Mobile Phones, Ringtones and Mobile Java Games.
Mobile Fun has offices in the UK, Germany, Spain and France and delivers products to over 50 countries worldwide.
Mobile Fun were recently named the 'Best Accessory Retailer' 2012 at the What Mobile Awards and won the title of Online Retailer of the Year at the Mobile News Awards 2012 for the second year running.