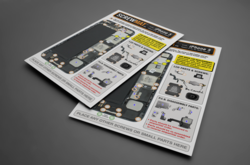 Tulsa, OK (PRWEB) September 28, 2012
ScrewMat.com is proud to announce that their popular line of ScrewMats now includes the ScrewMat for iPhone 5. The ScrewMat helps professional repair technicians and amateur do-it-yourself repair enthusiasts to repair their own iPhone 5 by using the patent-pending magnetic illustrated repair guide.
"The ScrewMat helps the user with the dis-assembly and reassembly process by allowing them to follow a guide while opening up their iPhone 5, and knowing exactly where each and every piece is as they put it back together." Said Tony Baker, Vice President of Marketing for ScrewMat.com. "For the person doing the repair, this can mean saving both money and frustration by reducing the time it takes to repair a phone, and by helping to insure that the phone is properly reassembled." said Baker.
The ScrewMat for iPhone 5 has been widely reviewed on repair sites and video channels online. The ScrewMat is also available for the iPhone 3G/3Gs, the iPhone 4S, the iPhone 4, and the iPod Touch 4 and now the Samsung Galaxy S3. Other ScrewMat tools will be available in the near future.
The ScrewMat is currently available through a network of distributors and part suppliers in the United States and around the world. Tool and wireless part supply stores are encouraged to apply to become an official ScrewMat distributor by completing an application on the ScrewMat website.
For More Information, please visit: http://SCREWMAT.com
About ScrewMat:
SCREWMAT was founded in 2010 to help cellular phone repair professionals and do-it-yourself amateurs efficiently and easily repair and replace parts within cellular phone, smart phone, and hand held devices.