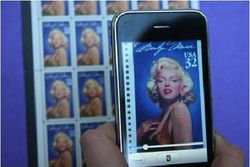 It is also a convenient tool for stamp or coin collectors and hobbyists
Greenwich, CT (PRWEB) October 26, 2009
iMagnifyApp.com today announced that its new handy magnifier, iMagnify™, for the iPhone 3GS, is now available on Apple's iTunes AppStore.
This unique iPhone 3GS app is one of the first such applications to take advantage of the more powerful new iPhone 3GS by allowing users a convenient way to, in effect, magnify small objects and fine print. With a slide control bar, objects are magnified up to 4X times in size. Captured images can be resized with a pinch and saved to the iPhone camera roll for later use.
View iMagnify™ video on YouTube
iMagnify™ inventor, Sheila Gallagher, commented, "Leaving your glasses at home is commonplace, but you are rarely without your handheld phone." This portable magnifier will be useful for viewing small objects and details when traveling, in restaurants, in supermarkets, or when squinting at tiny prescription labels. "It is also a convenient tool for stamp or coin collectors and hobbyists," said Gallagher.
iMagnify™ features include:

Easy navigation
Powerful 4x magnification
Slide bar magnification control
Pinch to re-size the image before saving
Image save
Pricing and Availability:
iMagnify™ is available for download in the U.S., U.K., and Canada for the iPhone 3GS at the App Store for $0.99 US. For more information about iMagnify™, please visit http://www.imagnifyapp.com or contact Sheila Gallagher 203 552 0748 or Sheila(at)iMagnifyApp(dot)com.
###