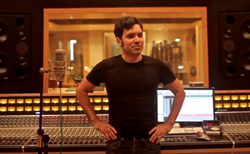 It appears that the iPhone 6 won't play back frequencies higher than 20kHz. This may be a blow to companies that want to cash in on consumers' curiosity for high resolution audio, but I don't think it will adversely affect iPhone 6 customers at all.
New York, NY (PRWEB) October 14, 2014
Justin Colletti, the Audio Department Chair of SAE Institute New York, performed technology research for news website Mashable about the high resolution audio response of Apple's new iPhone 6. Colletti found that the phone doesn't play back these frequencies, although its digital-to-analog converter is theoretically capable of doing so.
"It appears that the iPhone 6 currently won't play back frequencies higher than 20kHz," says Colletti, who is also writer, editor, and producer for Sonic Scoop, one of the most visited music production websites on the web.
"This may be a bit of a blow to companies that want to cash in on consumers' newfound curiosity for high resolution audio, but I don't think that this limitation will adversely affect iPhone 6 customers at all," he says. "Countless blind listening tests suggest that even golden-eared audio engineers can't hear an improvement when you add frequencies above 20kHz. For consumers, super-sized audio files usually just end up wasting space and draining batteries faster with little or no perceptible improvement in listening quality. In fact, they could even degrade the sound quality on something like an iPhone. "
Colletti says that most portable consumer devices aren't capable of playing back ultra-high frequencies very well, and that trying to make them reproduce these inaudible frequencies could actually cause their small built-in headphone amplifiers to add a significant amount of audible distortion to the signal.
"Ironically, listeners on a quest for high resolution sound could end up with lower quality audio by trying to play back supersonic frequencies that they can't really hear anyway," explains Colletti. "By capping playback at 20kHz for the iPhone 6, I think that Apple made a pretty good call for this kind of device."
A native of Dobbs Ferry, NY and a resident of Park Slope, Brooklyn, Colletti graduated from SUNY Purchase, where he received a Bachelor of Music degree in Studio Production. After a decade-long career recording music, he worked as an adjunct lecturer at City University of New York and an adjunct professor at New Jersey City University before joining SAE Institute New York in February 2014 as the school's Audio Department Chair. His primary responsibility is overseeing the school's Audio Technology Diploma program.
"I actually think that SAE does a better job of teaching practical audio technology skills than most four-year bachelors programs, and that's what really sets SAE apart," says Colletti. "Our instructors are all working industry pros who are at the top of their game, and grads get phenomenal support from the local and national Career Services teams so they can quickly get up and running with once they enter the job market."
Along with his work as an educator and journalist, Colletti regularly hosts the Audio Engineering Society's "Platinum Engineers" presentations at the Jacob Javits Center (NYC), and is still an in-demand recording, mixing, and mastering engineer and live sound engineer. He has worked in the studio with The Flight of the Conchords, Wynton Marsalis, Chrisette Michele, and Willie Nelson, and he's mixed live shows at such premier Manhattan venues as Hammerstein Ballroom, The Kitchen, Studio B, Mercury Lounge, Highline Ballroom, The Cutting Room, and The Bowery Ballroom.
For iPhone 6 users who were hoping for higher resolution audio from their phone, Colletti has a recommendation:
"The digital side of a listening device is almost never the weakest link in the chain - it's usually the analog electronics that have trouble keeping up," says Colletti. "With that in mind, here's one thing that owners of the iPhone 6 and other devices can do: buy better headphones. Now that's a difference that you really can hear."
About SAE:
SAE Institute provides aspiring creative media professionals with a foundation of practical theory and valuable hands-on training in their chosen areas of concentration. Under the guidance of our faculty, which is comprised of working industry professionals, students gain the essential experience they need for entry-level jobs in the entertainment business. Our students are supported in their job searches by SAE's international network of alumni, many of whom are leaders in the music, film, game arts, and live performance arenas. We offer programs in audio technology across our seven US campuses, along with a music business program at select locations, all fully accredited and focused on preparing students for employment when they graduate. Bachelor's Degree programs in Animation, Audio, Film, Game Art & Graphic Design are available at the two locations of Ex'pression College, which is owned and operated by SAE Institute Group, Inc. SAE Institute Group, Inc. is a part of Navitas LTD. Learn more at USA.sae.edu.
About Navitas:
Navitas is an Australian global education leader, providing pre-university and university programs, English language courses, migrant education and settlement services, creative media education, student recruitment, professional development, and corporate training services to more than 80,000 students across a network of over 100 colleges and campuses in 27 countries. Learn more at Navitas.com.