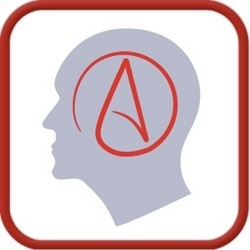 It's like an atheist swiss army knife!
Forest Hills, NY (PRWEB) July 16, 2010
The Atheist Pocket Debater is a wildly popular iPhone app for Nonbelievers, Agnostics, and Freethinkers, that contains old and new arguments against the existence of God.
Author Michael Shermer, publisher of Skeptic magazine, says, "Atheist Pocket Debater is an excellent and useful tool for Atheists and Skeptics."
This iPhone app for Atheists provides many ways to argue and debate against Christians, Creationists, and Bible Thumpers. It is set up for very quick reference and memorization. In addition to the atheist debater section, the app contains two other complete sections: Skepticism, dealing with rational thinking, aliens, ghosts, psychics, and get-rich-quick schemes, and Humanism, which contains positive and uplifting humanistic articles including the Universal Declaration of Human Rights and Humanist Manifesto.
Roy Speckhardt, Executive Director of American Humanist Association says, "Atheist Pocket Debater provides smart, at-the-ready responses to critiques of atheism. It also includes a wealth of information about humanism and skepticism."
Jason Hagen, the creator of the Atheist Pocket Debater, was featured in the July 3rd front page story of the New York Times titled "You Say God Is Dead? There's an App for that" by Paul Vitello.
On July 8th, Jason attended "The Amazing Meeting" conference in Las Vegas; speakers included Richard Dawkins, James Randi, comedian Paul Provenza, and Mythbusters' Adam Savage, among many others. "I've been pleased with the success and popularity of the Atheist Pocket Debater, though I'm not surprised. The number of atheists in the world is highly underestimated," says the author of the Atheist Pocket Debater, Jason Hagen. "If you're an atheist or agnostic, know that logic is on your side. This app shows you how."
Proof of the topic's continuing popularity was further evidenced when Jason was interviewed July 10, on Free Thought Radio with Dan Barker, President of the Freedom from Religion Foundation. The interview can be heard on iTunes Free Thought Radio podcast.
App features include font and text size controls, and it is compatible with Apple iPhone, iPod touch, and iPad.
Pricing and Availability:
Atheist Pocket Debater is available for purchase at $2.99 through the iTunes App store at:
http://itunes.apple.com/us/app/atheist-pocket-debater/id356411065?mt=8
Promotional Video:
http://www.youtube.com/watch?v=7Uo9OV-QMK0
Official Website:
http://www.iFreethinker.com
About the author:
Professional musician, real estate investor, and entrepreneur Jason Hagen currently resides in New York City.
###