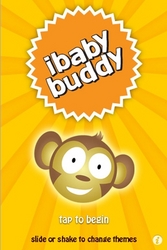 Busy parents often find themselves juggling fussy babies and a long list of errands and there's rarely enough time to pack a bunch of toys for the road
Calgary, AB (PRWEB) July 30, 2009
There's a new playmate in town, and it comes in the form of Mom or Dad's iPhone with the release of Mantaray Creative Lab's newest app, iBabyBuddy. Designed to keep babies and toddlers entertained when there's not a toy box in sight, the first release of iBabyBuddy features iconic animal characters that make noises and vibrate in response to baby's movement and interaction.
"Busy parents often find themselves juggling fussy babies and a long list of errands and there's rarely enough time to pack a bunch of toys for the road," said Tamara Rosenblum, principal and creative director of Mantaray Creative Labs. "Most people have their phone at their disposal regardless of where they are so with that in mind we developed iBabyBuddy to be a traveling playmate that never leaves your side," she said.
Designed to work with both the iPhone and iPod Touch, iBabyBuddy entertains, stimulates and teaches through interaction and discovery. The first release includes three must-have themes: animals, musical instruments and whimsical toy sounds. Combined with a Shake-n-Change feature, iBabyBuddy guarantees an endless array of non-stop, educational fun…and an opportunity for Mom or Dad to take a quick break from being the constant entertainer.
New themes will be added regularly (free of charge) to ensure iBabyBuddy grows alongside its earliest fans.
iBabyBuddy is available exclusively at The App Store at http://www.apple.com for a low cost of $1.99.
For more information or to download media kit, visit http://www.iBabyBuddy.com or follow on Twitter at twitter.com/iBabyBuddy. To view a video of child and iBabyBuddy visit http://www.youtube.com/user/ibabybuddy
Headquartered in Calgary, Alberta, Mantaray Creative Labs is a division of Mantaray Creative. Established in 2008, Mantaray Creative Labs develops, distributes and markets iPhone apps for the world to enjoy. For more information, visit http://www.mantaraycreativelabs.com
Photos available by request.
###