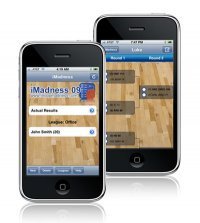 Pompano Beach, FL (PRWEB) March 8, 2009
AgencyWeb is proud to announce the release of their first iPhone application - iMadness 09. Being avid Apple supporters and users, they jumped at the chance to take part in this exciting project. AgencyWeb was confident they could produce a successful product in time for March Madness.
Albert Pardo came to AgencyWeb with the hopes of making his dream a reality. He loves his iPhone almost as much as he loves sports. To combine the two was a natural progression for him. Albert had a clear vision of what he wanted his product to be and AgencyWeb executed it exactly.
"I run the NCAA bracket pool with my friends at work. The problem with this is I am a teacher and the tournament always coincides with Spring Break, so I lose touch with many of my friends for that week. I thought if I could have a bracket app on my iPhone that could keep things updated that it would be awesome. I put together a presentation for the guys at AgencyWeb, they loved the idea and decided to run with it. This is my first venture into technology and I must say it is very exhilarating. I can't wait to have the App on my phone and to see all my friends and all the other College Basketball fans around the country playing with iMadness 09." -- Albert Pardo
AgencyWeb brought their years of online marketing and design expertise to the table while teaming up with Group Zero out of Boston to handle the programming aspect. The two companies have worked together on other successful web projects before.
User experience is always important on the web. However it is even more crucial on mobile devices where smaller screen size and reduced user interaction comes in to play. The challenge with iMadness was to create a simple interface in which the user could make their selections with ease, while at the same time allowing for custom scoring, the ability join leagues with friends, and find out details about the game. This balance of the simple with complex is the secret to all successful applications.
It's that time of the year when America stops to fill out a bracket for their school or office pool. Follow along as the NCAA Basketball tournament goes from 64 teams to 1 National Champion. Gone are the days of filling out a piece of paper to make your tournament picks every March. Now you can track all of it on your iPhone or iPod Touch. iMadness tracks the performance of your bracket with up to date scores and results. You can set custom scoring, create multiple brackets and leagues, and email a PDF of your picks all from your iPhone. No iPhone, no problem, everyone can participate in a bracket online at iHoopMadnesss.com
So if you are tired of wasting paper on your school or office pool and want to step into the 21st century check out iMadness 09' available on the iPhone App Store for only $.99, or visit http://www.iHoopMadness.com
AgencyWeb is an Google Adwords Qualified company and search marketing agency based in Pompano Beach FL. AgencyWeb specializes in strategic online marketing projects that generate relevant traffic for their clients with measurable results. They can be contacted at http://www.agencyweb.com or at 954-892-6500
GroupZero is a technical project management company based in Worcester MA. GroupZero specializes in cutting-edge, industry-specific solutions to provide their clients with truly personalized service. They can be contacted at http://www.groupzero.net or at (888) 583-8988
# # #