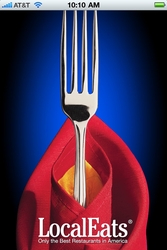 LocalEats — boasting well over 5 million "Near Me" searches for 2010 so far — is currently the No. 1 paid travel app in Apple's App Store.
Nashville, TN (PRWEB) October 13, 2010
Leading iPhone travel app and website LocalEats has released its LocalEats Guide For The Discerning Diner: How To Navigate Online User Reviews. LocalEats — boasting well over 5 million "Near Me" searches for 2010 alone — is currently the No. 1 paid travel app in Apple's App Store. Unlike its mobile dining guide competitors, LocalEats gives users lists of the Top 100 Restaurants along with category winners in over 50 major U.S. cities, plus hundreds of local favorites in those markets and in smaller markets across the country.
The new LocalEats "guide," posted on their website, outlines some of the more common online user reviews that LocalEats editors say often trip up the "discerning diner" simply looking for a good restaurant. The six types include:
1. The "I Did Not Actually Eat Here, But … " Review
2. The "I Don't Eat Out Very Often, But It'd Be A Tragedy To Deprive The World Of My Insight" Review
3. The "I Prefer Chain Restaurants" Review
4. The "Does Not Compute" Review
5. The "I'm Anal Retentive and That Makes Me An Expert" Review
6. The "Anything That Other People Enjoy That Costs Money Is Overrated" Review
"Online user reviews are all the rage right now," says LocalEats writer/editor Catherine Johnson. "Sure, when lots of users have reviewed a place, the extreme negatives and positives average out, and no, not every user review is unhelpful. But the bad ones are just so bad! LocalEats stands behind an old-fashioned concept — that is, that a dining guide should actually guide you." She continues by saying that many other guides are little more than listings you'd find in a phonebook — 20,000 or so restaurants in a major metro area. "LocalEats features only the best restaurants in a city. And we never include big chains."
The latest updates to the app, both on iPhone ($0.99) and Android ($0.99), have catapulted LocalEats to the No. 1 spot for paid travel apps in the App Store. The iPhone version includes ways to easily filter restaurant choices by everything from neighborhoods and price ranges, to mobile coupons and bar information. The app also includes a "Get A Cab" feature and the ability to send restaurant suggestions to friends.
About Magellan Press, Inc.
Magellan Press, Inc., is a Brentwood, Tennessee, independent book publishing company founded in 1991.The company's Where The Locals Eat® book series and LocalEats® iPhone, BlackBerry Storm and Android applications are leading sources for regional dining information nationwide.
For more information visit http://www.WhereTheLocalsEat.com.
###