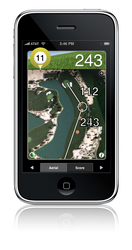 perfect balance of features and usability.
Minden, NV (PRWEB) July 2, 2009
Shotzoom Software announced the release of Golfshot: Golf GPS rangefinder, available today on Apple's App store for iPhone 3G and 3G S. Featuring TruePoint positioning, Golfshot: Golf GPS allows golfers to touch any point on a golf hole to receive distances to and from that point.
The golfing community has already embraced the Golfshot Scorecard Application, with user reviews praising its "perfect balance of features and usability." Golfshot: Golf GPS builds on the easy-to-use interface, tour quality statistics, and scorecard share and compare functionality currently available in Golfshot. The GPS capabilities quickly give users a multitude of vantage points and course-specific information, including:

Aerial images of golf courses worldwide
Exclusive TruePoint positioning to view distances to and from any point on the course
Accurate distances to greens, bunkers, water hazards, layups, and more
Customized layup distances tailored to a golfer's ideal clubs and distances
"The GPS capabilities in Golfshot: Golf GPS exceed what is available on most stand-alone golf range finder hardware, but at a fraction of the cost," explained Laura Khailany, Vice President of Shotzoom Software. "In this economy, saving up to $400 on a golf GPS range finder is an exceptional value," Khailany added.
Golfshot: Golf GPS has over 15,000 courses available worldwide. Golfers can search for their courses at http://www.golfshot.com/courses and can request additional courses for free.
Designed by golfers with an eye for simplicity and ease-of-use, the Golfshot GPS application is priced well below competitive stand-alone golf GPS products and is available in the iTunes App Store, or at http://www.tinyurl.com/golfshotgps.
About Shotzoom Software
Shotzoom Software, LLC is a private company specializing in the development of innovative sports statistics measuring and technology products designed for professional and amateur sports industries.
Shotzoom Software, creators of Golfshot, is committed to enhancing the golfer's experience by providing professional tour caddie information on course distances and record keeping through simple and efficient user entry. Golfshot is designed to respect the traditions of the game and use technology responsibly within the Rules of Golf. The Golfshot application for the Apple iPhone is a revolutionary golf scoring, distance measuring, and game analysis tool that provides insight on how golfers play their game. Golfshot allows users to share their golf experiences by recording scores for up to four players and provides the means so that golfers can share and compare their rounds through the Golfshot website community at http://www.golfshot.com.
Shotzoom, Golfshot, associated trademarks and logos are trademarks of Shotzoom Software, LLC.
Apple, Mac, iPhone, iPod, and iTunes are trademarks of Apple Inc., registered in the U.S. and other countries.
###