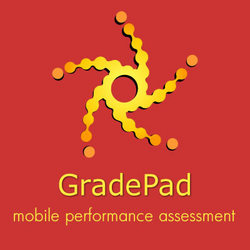 The app is very useful. I like it.
Minneapolis, MN (PRWEB) September 11, 2009
Portage Interactive announces the release of GradePad 1.2, an iPhone/iPod touch performance assessment tool for teachers and trainers that now includes a gradepad.com account for importing class lists, creating or sharing rubrics, and exporting assessment data. With GradePad, educators can manage groups and create rubrics or "scoring sheets" with criteria and rating scales. You can assess performance, track improvement, and share data. Anyone anywhere can use this "in-your-hand" assessment tool to observe and score projects, presentations, performances, and behaviors.
"GradePad 1.2 now allows educators to share information between their GradePad.com account and iPhone or iPod touch," said Mike Palmquist, GradePads' Designer. "It has some sweet features like importing class lists and new GradePad rubrics. You can share your GradePads or adapt any that colleagues have shared on gradepad.com." @cherylcolan tweeted, "I'm in LOVE with this in-my-hand assessment tool." @smeech from IEAR.org tweeted, "The app is very useful. I like it." Tom Boe, Senior Product Manager at PLATO Learning wrote, "Very cool! The low entry-level price-point and collaborative sharing might make this a real game-changer for observational assessment."
GradePad 1.2 is:

Simple. Create GradePad ratings for performance assessments easily and quickly. Use them wherever you are.
Flexible. Apply GradePads (rubrics with criteria and scales) to a range of subjects and disciplines to assess performance, presentations, behaviors, and outcomes.
Organized. Organize groups and rubrics. Access any GradePad for any member of any group. Keep a record of every assessment for every person and the date they were made. Review and revise past assessments on an iPhone or iPod touch. Add comments or other notes.
Designed for Sharing. Email assessment data or post results to your GradePad.com account. Upload any of your own GradePad rubrics and share them with others at GradePad.com. Online you can also import class lists, store final scores, and export data for reporting and record keeping.
GradePad 1.2 comes with 5 built-in GradePads that you can edit: Interpersonal Communication, Teamwork, A Project, An Oral Presentation, and Behavior. Educators can create as many of their own GradePads as they need.
http://www.gradepad.com includes 50 other rubric samples such as Science Fair Project, Fluent Reading, Listening Skills, Cooperative Learning, Foreign Language Interview, Sports Participation, Public Interaction, and Lab Work.
GradePad is in English but GradePads can be created in any Roman-alphabet language.
Requirements:
Compatible with iPhone and iPod touch.
Requires iPhone 2.2.1 Software Update.
Portage Interactive (http://www.portageinteractive.com ) is an independent design and development studio with more than 20 years' experience building innovative, award-winning educational and entertainment applications. The founding partners both worked at MECC and The Learning Company for more than a decade - making products like Oregon Trail 3 and Amazon Trail. For clients like Hewlett-Packard, they've developed products like HP/Kung Fu Panda Activity CD. With clients like Plato Learning, they've developed learning software such as Focus Reading. Their 10-year history includes more than 40 published titles.
###