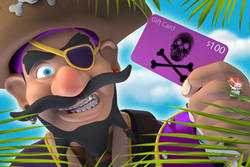 "A really well designed application, the graphics are stellar!" App Calendar
Orlando, FL (PRWEB) May 11, 2010
The 'Grab the Booty' promotion running throughout the month of May will be a pitched battle between slot players all vying for a claim on the gift card gold. On May 31 the top ten 'pirates' on the game's leaderboard will all win iTunes gift cards. There are over $250 worth of cards in the giveaway with the top seadog nabbing a $100 prize. "The built in Open Feint leaderboard is already a great way for players to compete with each other around the world and now our community has the chance to go head to head and win real prizes" said A J O'Toole founder of Clever Fox Software.
To advance up the rankings Crazy Pirate Slots requires more than just luck. At first glance its a classic 3 reel slot machine but what makes this different is the ability to interact with and shoot icons for bonuses and other features. The game is therefore one part slot machine and one part shoot 'em up. As the player bets and spins the lever, evil pirate skulls randomly appear on the reels and unless they are tapped away quickly they will take back some of the hard earned booty. "...and when the squawking parrot appears a quick tap launches a fun Wheel of Fortune style mini game." said O'Toole. As the score rises the game gets progressively more difficult requiring not just good luck but fast reflexes to make a path to the 'Bonus Booty' jackpots"
The small crew at Clever Fox all have backgrounds in high end 3D Animation and Visual FX, and those skills now spill over into app development. The interface has a polished nautical look throughout with all the icons rendered in 3D. The voice of Captain Pineapple, the game's mascot can be heard during the game giving the player words of encouragement or more often than not salty insults if they are not capturing enough gold. ""An iPad version is in the works as well as more mini games and a some more surprises. Spin the wheel, but be warned miss too many skulls and it'll be straight to Davy Jones' Locker!" said O'Toole.
Crazy Pirate Slots is available on the iTunes AppStore for $0.99
About Clever Fox Software :
Clever Fox Software is based is Orlando Florida. The company is committed to producing innovative mobile applications. The staff at Clever Fox all have backgrounds in 3D Animation and Special FX and those skills play a large part in the design of their products.
# # #