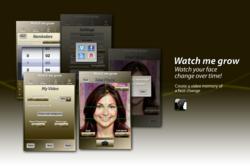 With this app, you can watch 1 year of change happen in 10 seconds.
Frisco, Texas (PRWEB) September 29, 2011
By encouraging users to take a picture of themselves each day, the Watch Me Change iPhone App is fast and effective. Simply snap a photo of yourself on your iPhone, and the app will create a time lapse video of change over time. Innovative features include:

Complete flexibility to take pictures as your face changes. There is no need to be in the same place or wear the same clothes since the overlay option properly matches your photos.
Utilizes gridlines or a ghost image of a previous photo to make sure you are in the same place for the photo every time.
Multiple users can use the app, so you can have several creations going on at the same time.
Convenient reminders to help you take daily pictures of your face
Full controls over the final product, with the ability to remove specific images from the video, adjust the length of the video, or add music from your iPod library.
Tools to upload your video to social networking sites like Facebook, Twitter, and YouTube or watch the video from your iOS device.
Universal App (iPhone and iPad combatable)
"Watch Me Change Face is a fun, entertaining app that creates a time lapse video of you or someone you know changing. From growing a beard, watching your pregnant wife's belly grow, or aging with grace, Watch Me Change is a fun video memory for cataloguing our lives," said Mike Hall, Founder and CEO of MJH Apps. "For parents, this app is a perfect means of archiving a child's progress from newborn to infant and beyond. Simple to use and fun, Watch Me Change is an opportunity to share life's best memories with friends and family worldwide ," continued Hall.
With the innovative design and ease of use, the Watch Me Change app is sure to be a hit with every segment of society, from parents, to children to professionals.
About MJH Apps
MJH Apps designs the innovative series of Watch Me Change apps, which create time lapsed videos for people to share and discuss. By simply taking a photo of yourself each day with your mobile device, you can chart everything from weight loss to pregnancy to the development of a child. Men can even catalogue changes in their own appearance, especially when growing a beard or undergoing other fun updates to their appearance. For more information, please visit http://www.watchmechangeapp.com, or watch the one-minute explainer video on that page.
Mike Hall
MJH Apps
CEO
214.697.8172
Mike(at)WatchMeChangeApp(dot)com
7546 Oak Street
Frisco, TX 75034
###