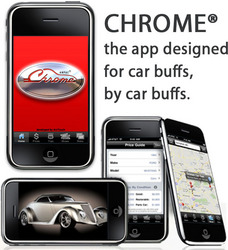 One of the things our CHROME clients appreciate most is that they can get the specialty car coverage they need from the same company that insures their home, auto, and other possessions
Springfield, MO (PRWEB) October 29, 2009
iPhone users can now download the CHROME® iPhone app, the first app to include a price guide for classic and antique automobiles.
Instead of carrying a Blue Book, Black Book, or relying on limited online information, iPhone users who download the new CHROME app can have at their fingertips:

Price guide data for more than 40,000 models of vehicles provided by Old Cars Price Guide, published by F+W Media. Car values are available for models originally manufactured from the early 1900's to late-model classics from the 1990's, and are based on six levels of current condition.
A road-trip journal, which allows users to log each stop using GPS technology as they travel, adding notes and photographs.
Car show information searchable by name and location, mapping the nearest car shows to the user's current location. Users can get directions or tell a friend about an event by e-mailing the information directly from the app.
Images of classic and specialty automobiles sighted at events across the country, as documented by CHROME representatives attending various car shows and events. These images are searchable by make, model, and other options.
Slide show images of show-quality hot rods and classic cars owned by CHROME clients and featured in the 2009 and 2010 CHROME calendars.
CHROME specialty car insurance, from American National Property And Casualty Companies (ANPAC®), is offering the app for $1.99 per download, available at the Apple App Store.
The app will be unveiled to the auto industry in a new products showcase at the Las Vegas Convention Center during the 2009 SEMA Show, Nov. 3 through 6. More information about the app will be available at the CHROME specialty car insurance booth (#23986) throughout the SEMA Show.
CHROME is one of several specialty insurance products offered by ANPAC. It was developed by ANPAC more than 13 years ago by employees who are also classic-car enthusiasts, in response to the lack of specialty car insurance available within the industry.
"Many major insurance companies either don't insure these vehicles at all, or insure them as they would insure any other non-collectible vehicle, often with restrictions and without coverage for custom features like paint, body, and other modifications," said Janet Clark, ANPAC's vice president of underwriting services, lead-developer of CHROME insurance, and self-proclaimed car buff.
CHROME is an acronym which stands for classic, hot rod, replica, original, modified, and exotic vehicles. Special CHROME policy features include: agreed value, annual mileage up to 10,000 miles, roadside service and towing options, choice of repair facilities, spare parts coverage, discounts for collectors who insure multiple specialty vehicles, endorsements for vehicles under construction, and personalized service through local agents who offer a continuum of insurance and related services.
"One of the things our CHROME clients appreciate most is that they can get the specialty car coverage they need from the same company that insures their home, auto, and other possessions," said Clark.
ANPAC is a property and casualty insurance company. Its home office is located in Springfield, Missouri. It is a subsidiary of American National Insurance Company (ANICO) of Galveston, Texas. American National Multiple Line exclusive agents offer a combination of life insurance, annuities, property and casualty insurance for personal lines, agri-business, targeted commercial exposures and other services. Multiple Line agents serve individuals, families and business owners. Go to anpac.com for more information.
This summary of coverages is not a statement of contract. Some coverages may not be available in all states. All coverages are subject to the exclusions, conditions, and requirements stated with the policy. Apple, iPhone, and App Store are trademarks of Apple Inc.
###