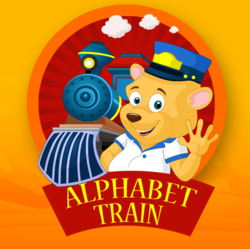 Little kids will unknowingly learn their alphabets and first words while playing and enjoying this app for hours all alone.
(PRWEB) May 21, 2011
Internet Design Zone, an iOS application developer company, has launched a new fun educational iPad/iPhone app: The Alphabet Train. Kids in age group 2-6 or in pre-school, 1st, 2nd grade would enjoy playing with this app and learn alphabets ABC and their first words in no time.
Once, you start the app, the cute Teddy Bear train driver gets the steam engine chugging in with puffs of smoke coming out of the chimney. The sounds of the train hooting and running on the railway track will appeal to little children. Two railroad cars are attached to the engine for every alphabet. The letter dances on the first railroad car and an object whose name starts with that letter dances on the second railroad car. Example: for C, the letter C dances on the first railroad car and a Clown does a juggling act on the second railroad car. Similarly the train moves on for all the letters.
Why kids will love the Alphabet Train?

Real train sounds.
Colorful attractive graphics with funny animations.
Very simple and easy to use. Child-friendly design.
Background voice-over speaks aloud every alphabet and word.
Why parents will love the Alphabet Train?

Kids will learn alphabets ABC quickly along with first words.
Kids will learn to speak the alphabets and words after hearing the voice-over.
Kids will learn to recognize the pictures both from their spoken and written names.
Kids will be able to use the app alone and spend hours learning and having fun at the same time.
Parents can sit with their child and enjoy the app together and thus increase parent-child bonding.
The Alphabet Train app is now available for free download on the iTunes App store as a universal app for all three devices: iPhone, iPad and iPod Touch. Alphabets A to E are free. F to Z are available with an in-app purchase.
Founded in 2004, Internet Design Zone, India has been developing websites and mobile applications. It has developed more than 45 iPhone/iPod Touch and iPad apps. These days, the company is developing educational apps for kids on the iOS platform.
# # #