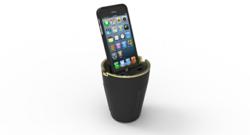 DockNstore was designed to fully take advantage of the mobile features of Apple's voice recognition technology known as Siri.
Los Angeles, CA (PRWEB) June 27, 2013
Apple will roll out their newly integrated iOS7 later this fall that has a much smarter voice application allowing iPhone users to better take advantage of the numerous apps that are part of the iPhone experience. However, with stricter hands free laws taking effect over the last several years, drivers have not fully taken advantage of their phones while driving, until now. Custom Car Docks (http://www.customcardocks.com) will introduce a new car docking station designed with audio chambers to allow drivers to talk on their phones, hands free, thereby complying with laws that have been enacted in most states.
The cup holder designed dock makes for easy docking and un-docking while keeping the iPhone off the windshield where other phone docks are found, causing a safety hazard. Strategically located audio chambers allow the DockNstore to channel a driver's voice into the dock where it reverberates back into the phone so that the application can respond to a command. These chambers are amazingly accurate at picking up the driver's voice. Once the voice is communicated to Siri the command to this software begins to do it's magic. Ask it to dial your phone to anyone in your directory, and it will. Have it find directions to the closest bank, or hospital, or gas station, and it will. If the driver is interested in listening to some of their music, Siri will find it, load it, and play it, hands free. Your voice is Siri command (http://www.youtube.com/watch?v=dI9iizImybo.)
Along with an easy, one handed docking ability, and audio chambers, DockNstore comes with a built-in power supply. With DockNstore, fumbling with power cables is a thing of the past. Simply by dropping the iPhone into the DockNstore, the user automatically attaches the power cable. No hassle, no fuss. Custom Car Docks is expecting delivery of it first units by end of July. They are taking advanced orders through the internet site http://www.customcardock.com. The units come with color matching bumpers of black, white, and pink. Color matching phone cases are included with all orders.
Custom Car Dock's personnel have extensive experience developing mobile products for companies like IBM, Panasonic, and Cisco. They believe in utilizing proven technologies, and integrating them into innovative devices. Custom Car Docks brings to the table a team spanning across many generational lines, allowing for an infusion of information and experiences – delivering quality, practical, and insightful solutions to their customers. For more information on Custom Car Docks, please visit