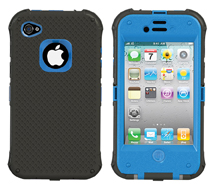 The NautiCase acts as a barrier between the iPhone and potential everyday mishaps.
Hollywood, FL (PRWEB) June 02, 2011
Concord Keystone today announced the debut of their new iPhone case -- the Keystone ECO NautiCase, the company's sturdiest protective case for iPhone 4. The newest addition to their line of iPhone covers offers a hard line of defense against iPhone's toughest challenges, including bangs, bumps, shock, dust and water spills. The NautiCase has received the IP54 environmental protection rating affirming the NautiCase has met specific international standards for protection.
"The cell phone is one of our most valuable possessions," said Urs Stampfli, CEO Concord Keystone. "The NautiCase acts as a barrier between the iPhone and potential everyday mishaps."
The NautiCase is an extremely sturdy tri-layer system of protection for the iPhone 4. The first line of defense is its high-impact polycarbonate hard shell that provides full protection to the iPhone 4. The shell features an integrated clear cover for the phone display screen. This offers protection to the device without losing the touch screen and phone functionality. A strong rubber skin, with a textured soft bumper surrounds the iPhone case and includes flaps for the dock connector and the headphone mini-jack.
The NautiCase's ready-to-use design eliminates the need for complex assembly. Just open the iPhone case, place the phone inside and snap it shut. Your iPhone 4 is encased in protection.
The NautiCase comes in six color choices and is equipped with a holster that holds the phone face-in or face-out. The holster has a built-in 360-degree rotating clip that allows it to attach to belts, waistbands, handbags and briefcases. The clip also features a built-in stand. The NautiCase works with both AT&T and Verizon iPhone 4 versions in black or in white.
The introduction of the NautiCase expands the Concord Keystone line of iPhone covers designed to protect the iPhone. The products will be offered through the company's website, concordkeystone.com.
The Keystone ECO NautiCase retails for $50.
Specifications:
Compatibility: iPhone 4
Certification: IP54
Dimensions: 5.08" X 2.7" X .07"/129mm X 69.5 mm X 18mm
Weight: 2.4 oz/68g (without phone)
Package Contents: NautiCase, holster & user manual
About Concord Keystone
Makers of a line of iPhone covers and the new iPhone case, NautiCase, Florida-based Concord Keystone Trading, LLC and its sister companies, Urcovest, LLC, also located in Florida and Concord Keystone Trading Limited, located in Hong Kong, concentrate on developing, manufacturing, and distributing high-quality, low-cost imaging and other household convenience and portable power products. Concord Keystone offers an array of products to make "on-the-go" lifestyles convenient, more fun, and less hectic. For more information visit http://www.concordkeystone.com/
###