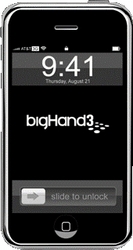 Best of Breed System of the Year
Chicago, IL (PRWEB) August 25, 2008
BigHand, the market leading developer of digital dictation workflow systems for the legal community, today announced support for the Apple iPhone's native AIFF and CIF sound formats. This allows professional users who record audio files on their iPhone to email their dictations into their BigHand Digital Dictation workflow system, for office-based tracking and processing, in turn expediting document turnaround.
Graham Wright, Chief Architect at BigHand, Inc. described:
"The iPhone utilizes Direct Push to synchronize with Microsoft Exchange, so we have expanded the conversion utility of our EmailGateway component so it extends to the AIFF and CIF file formats native to the iPhone. We already had extended the utility to take into account Symbian's native WAV and AMR formats; so iPhone support was the natural next step in our efforts to remain at the forefront of the mobility push taking place in the global legal community at present."
Steve Butterworth, President & CEO of BigHand, Inc. added:
"Having been first to support BlackBerry dictation after the release of their sound supporting operating system (4.2), it is testament to the technical expertise and client-driven philosophy within our development team that they are now leading the way with iPhone sound format support, just as that device starts to gain in popularity. There is no doubt this will be of use to organizations who are now starting to have iPhone requests from individual business users for the first time, and whose users do not want to carry (or the firm pay for) multiple dictation devices."
Over 700 professional service organizations worldwide use BigHand Digital Dictation to increase mobility; cut costs and improve document turnaround. For more information visit http://www.bighand.com or email inquiry@bighand.com
Contact:
Dan Speed, VP Marketing, BigHand. Email: dan.speed @ bighand.com Tel: +1 312 893 5906
Jobst Elster, Envision Agency. Email: elster @ envisionagency.com Tel: +1 850 385 4599
About BigHand
A Microsoft Gold Partner and BlackBerry ISV Partner, BigHand is based out of Sydney, London, Chicago and Toronto. BigHand is the leading digital dictation vendor in the global professional services sector. BigHand3 was awarded "Best of Breed System of the Year" at the Legal Technology Awards for 2008, and nominated as 'New Product of the Year' at the LTN Awards 2008. BigHand was named as the fastest growing legal software developer in The Sunday Times Microsoft Tech Track 100 league tables for both 2006 and 2005. BigHand was also recognised by Deloitte as one of the 500 fastest growing software vendors in Europe in 2006. Further information is available at http://www.bighand.com.
The names of actual companies and products mentioned herein may be the trademarks of their respective owners.
###