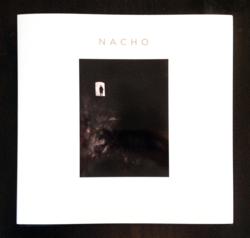 We wanted to celebrate Nacho's life through the medium that brought us all together. We hope it will serve to keep Nacho's art, his words, and his memory alive for all of us.
Santa Monica, California (PRWEB) December 29, 2011
On July 16, 2011 one of the most genuine voices of the mobile photography world was silenced as Nathaniel "Nacho" Cordova passed away.  A husband, father, teacher, and leader in the emerging field of iPhoneography, Nacho inspired those around him with his artwork, intelligence and insight. This holiday season, Nacho's fellow iPhoneographers at iPhoneArt.com produced a commemorative book in honor of Nacho's life.
"We wanted to celebrate Nacho's life through the medium that brought us all together.  We hope it will serve to keep Nacho's art, his words, and his memory alive for all of us," says Daria Polichetti, co-founder of iPhoneArt.com.
The 84-page not-for-profit book includes a selection of 49 images by Nacho as well as commemorative images, messages and thoughts from 60 members of the iPhoneArt.com community.
"As a finished book, it serves as testament to the generosity, intelligence and creativity that Nacho was so well known for, and illustrates the extent to which he affected all our lives," says Polichetti.  "As a project, it demonstrates the unique community that IPA has grown into, proving it to be a place full of welcoming, generous, and truly creative artists who gather here, not just for what they can get from the community, but for what they can give back to it as well."
Although the growth of online communities enables people to come together who may otherwise never meet -- the internet can also be isolating. It takes genuine effort and an open heart to reach across the digital divide and truly have an impact. 
Nacho accomplished this on a daily basis. 
"Physical distance may have separated members of the IPA community from Nacho.  But his love and the power of his convictions touched each member as though we all shared the same room," writes Alan Kastner in the book's introduction.
"In a world full of virtual 'friends,' Nacho managed to become a real friend to so many of us in the iPhoneography community even though we never met him," says Cindy Patrick, iPhoneographer and contributor to the book.  "When I received a comment from him on one of my images, it was like receiving a beautiful gift wrapped elegantly and tied with an exquisite bow."  
Nacho was an integral part of shaping IPA in its early stages. His thoughtful comments are everywhere, encouraging newcomers and critiquing fellow artists with a keen eye. "Nacho was one of the first IPA artists to comment on and encourage my work at a time when I was on unsure footing in this new medium. It encouraged me to continue shooting," says Clint Cline, who designed and produced the book.
All communities form a unique culture, taking shape around the personalities of their members. "The sincere, thoughtful critiques of one another have improved us all as artists, and I think Nacho was a big part of starting that trend early on," says co-founder Nathaniel Park.  "Nacho exemplified the kind of artists we created this website for.  He helped establish a high standard of quality in the artwork and discourse shared on the site, and so we work to continue the trend he began."
The book is available at cost on Blurb. No profit will be made on the sale of this book: all the artwork and time spent creating this commemorative project were donated by members of IPA.
Additional information and discussions about the book can be found on the discussion boards at iPhoneArt.com
About iPhoneArt.com: iPhoneArt.com launched in Santa Monica, CA at the end of 2010, and was quickly listed by Mashable.com as one of the top 10 essential websites for iPhone Photography while still in its infancy. Since then, IPA has grown from a small group of collaborators to a community of more than three thousand artists. Today it is a place where iPhoneographers come to discuss their work, collaborate with one another, learn about apps, and share what they have made. Co-founders Daria Polichetti and Nathaniel Park are dedicated to providing exhibition opportunities, financial support, international recognition, and promotional opportunities for its active members.
###